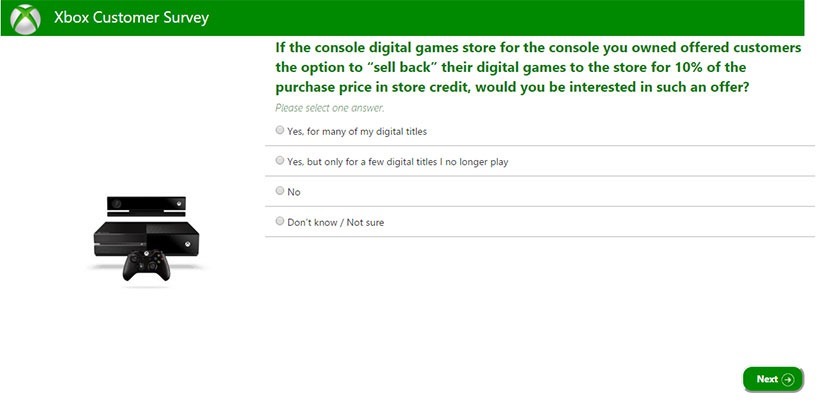 More and more, we see people buying their games from digital stores instead of physical ones. For many reasons, it's preferable to grab digital versions of games instead of heading out to a store and picking boxed games up. It's more convenient, it's sometimes cheaper, and it's just so damned easy to do. If there's one major drawback to digital distribution, it's that it's nigh impossible to trade-in or sell your digital games.
That could change – or at the very least, Microsoft is toying with the idea. In a new Xbox Customer Survey, Microsoft asks if you'd want to sell your digital games to Microsoft, and get a percentage of its value credited to your account – which you can then use to help fund new game purchases.
"If the console digital games store for the console you owned offered customers the option to "sell back" their digital games to the store for 10% of their purchase price in store credit, would you be interested in such an offer?"
While I think the idea is interesting, the idea of getting 10% back seems a little laughable – though it's honestly not too far from the cash you'd be getting back from a retail store that dabbles in the pre-played market. 10% is still more than 0% – especially on a game you no longer play.
Still, $6 back on a $60 game? I'd more likely keep it. It also brings in the question of logistics of sale of a digital item, which echoes the same one software pirates use to justify digital theft.
And if not for 10%, what would you sell your digital games for? 25%?
Last Updated: March 22, 2016