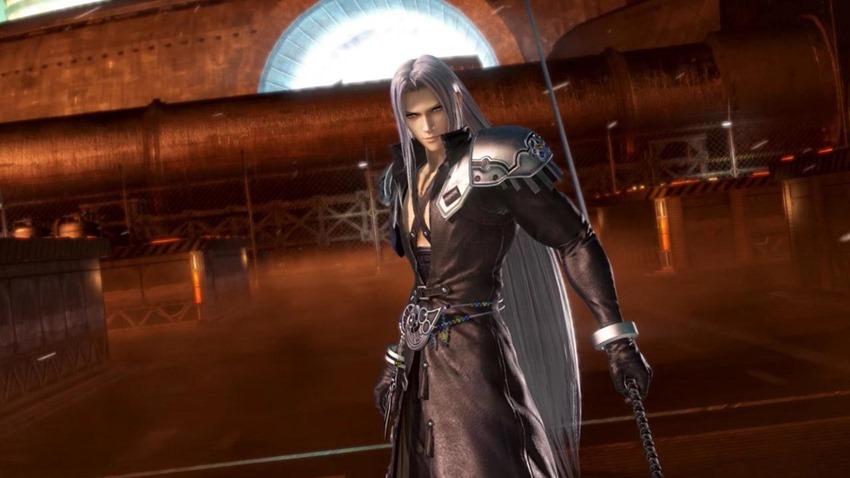 At its core, Final Fantasy Brave Exvius is a game about collecting characters. Taking a few ideas from the ever-popular Gacha video game genre, Brave Exvius gives you plenty of chances to get your hands on dozens of characters…and then consume them. Here, I think this ProZD video sums up the process perfectly:
Anyway, getting your hands on those top-tier characters in Brave Exvius usually requires a little bit of patience…and rare tickets, plenty of Lapis currency and a bit of luck. You can pray to RNGesus all you like, but chances are still high that only one in every ten pulls of the Rare Summon feature will give you a four-star character, who in my case usually ends up being Ozetta. Every. Freaking. Time.
You're going to want to save your Lapis and rare tickets however, because one of the most iconic villains in Final Fantasy history is on his way to Brave Exvius. The original Jenova's Witness, the one-winged angel known as Sephiroth. Here's the reveal video detailing his arrival:
Sephiroth's arrival will come with a new event dungeon, the Final Fantasy VII themed Nibelheim. As usual, you'll have plenty of time to earn a stack of Lapis, rewards and event-exclusive equipment with which to boost your characters. You might also need roughly 25 000 Lapis if you're deadset on pulling a Sephiroth, as the Brave Exvius Reddit broke down the chances of you obtaining the character provided that your wallet is deep enough: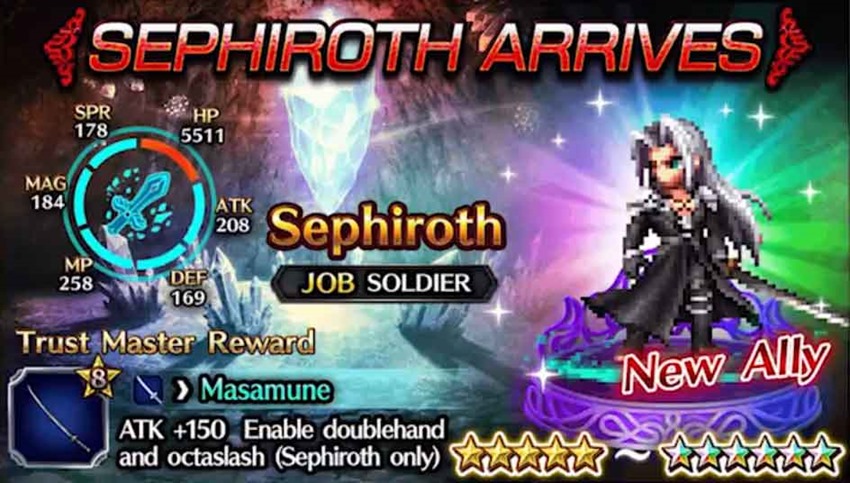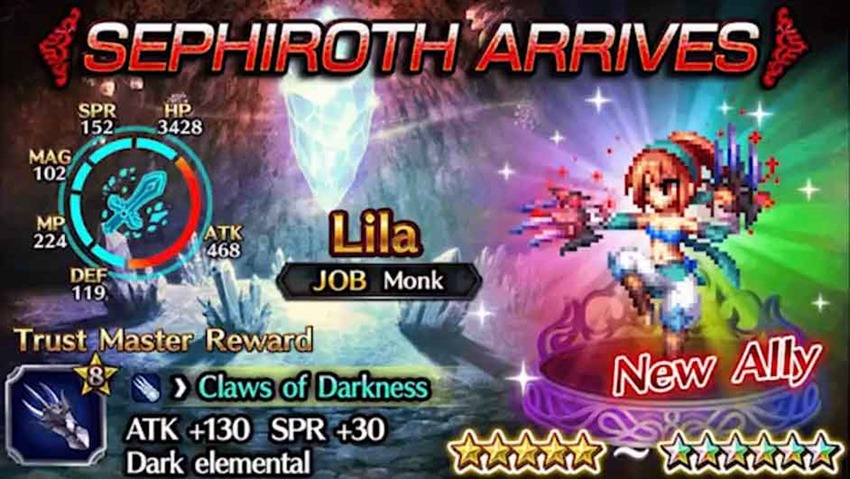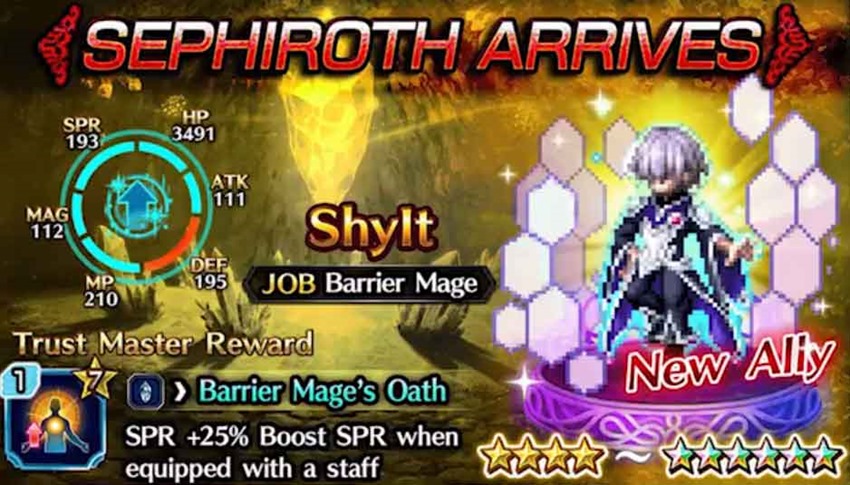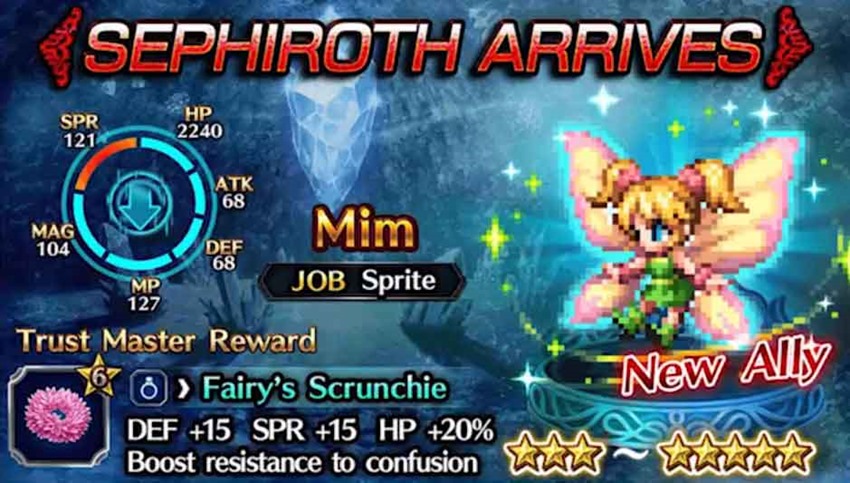 Step 1: 10% Trust Moogle (ALL)
Step 2: Guaranteed 4★ Shylt
Step 3: Guaranteed 5★ Unit (Random Unit)
Step 4: 10% Chance 5★ Unit Ticket
Step 5: Guaranteed Sephiroth OR Lila
BUT WAIT, THERE'S MORE! If you've been looking to awaken certain character abilities to a new level, you'll be able to augment the following warriors in Brave Exvius: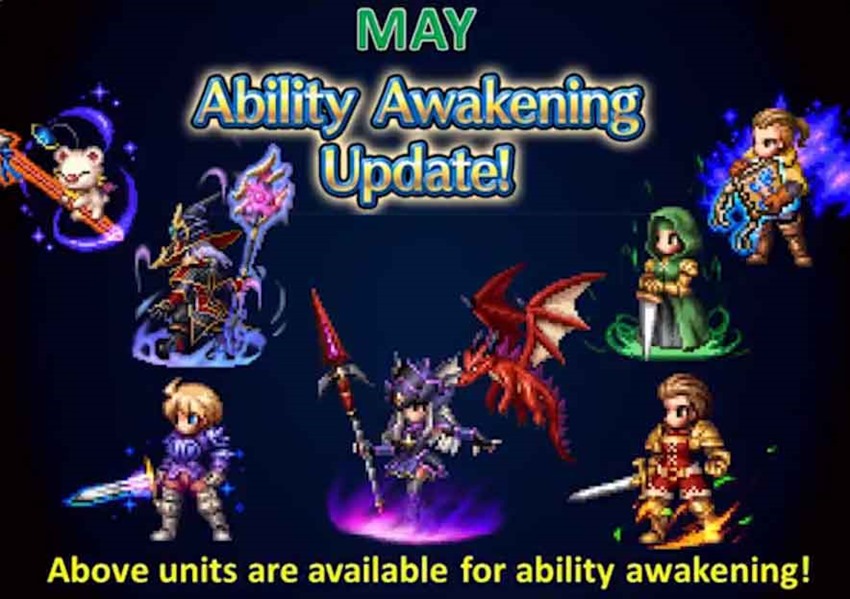 Mercenary Ramza
Knight Delita
Reberta
Zyrus
Meliadoul
Orran
Moogle
And a new chamber of arms boss to fight, who holds a particularly nifty reward if you can clear all the missions: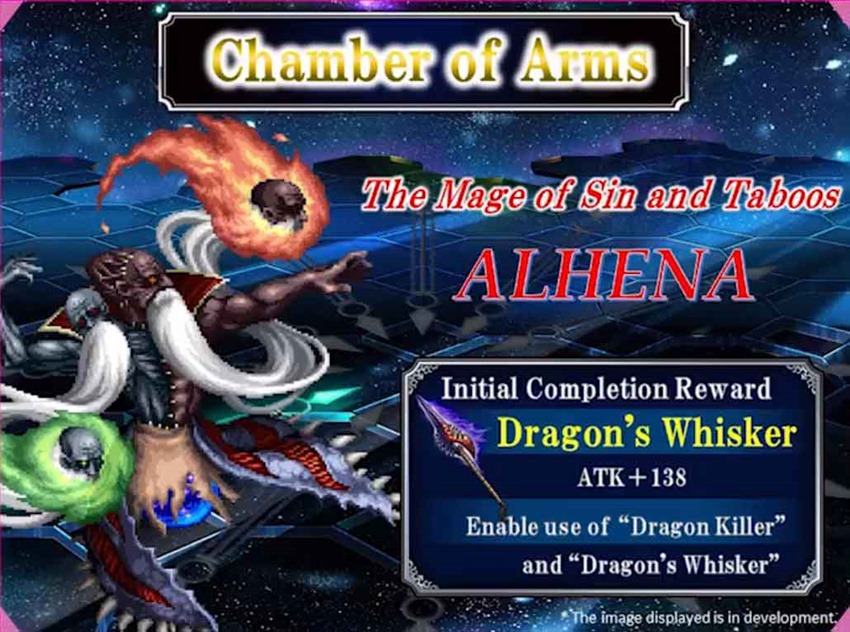 Clear: Dragon Whisker (Spear) +138 ATK & +50% Jump Damage and +50% Phys Damage vs Dragons
Use 5 LB: 2 Summon Tickets
Kill with Esper: 10% Trust Moogle
Finish within 30 turns: 15% HP/MP/SPR, Auto-Refresh [Materia]
Looking good! If you haven't checked it out yet, Final Fantasy Brave Exvius is an especially awesome free game to have on mobile devices. Do yourself a favour and check it out. Then send me a friend request so that you can use one of my six-star units who ate over a hundred Cactuars just so that he could gain semi-unlimited power.
Last Updated: May 7, 2018