The spooky Halloween event will bring a host of cosmetics inspired by Netflix's 80's pastiche alongside more traditional Autumnal items.
Remember back in 2016 when nobody expected anything out of Stranger Things? Like, it was a really well done season of Stephen King inspired 80's horror but I doubt many people expected it to explode into the pop culture phenomenon it is today. Three years and two more seasons later (with a fourth being teased not too long ago), the world is enamoured with the colourful cast of characters just trying to live normal lives without having to deal with the horrors of the twisted netherworld known as The Upside Down. I suppose that it, being the success that it is, it should surprise no-one that Stranger Things has already made its way into our video games, with the latest iteration of this crossover invading Rocket League.
Weird fit, but okay.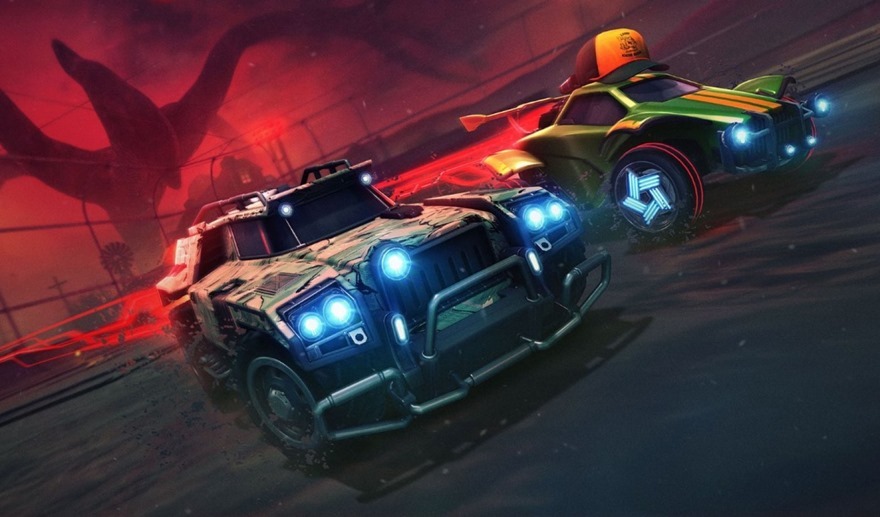 Rocket League will be hosting its annual Halloween event from October 14th all the way through to November 11th, celebrating with the usual assortment of unlockable cosmetic goodies except this time there's a Stranger Things twist! Players can drive around with Dustin's hat, a Scoops Ahoy! player border and a Demogorgon themed player banner amongst a range of other Halloween-themed items. The Farmstead court is also receiving a unique makeover for the event, bringing the dark and twisted vines and the hazy views of The Upside Down to the map, while every game played in the rustic arena will be overlooked by The Mind Flayer.
This follows a year of Stranger Things crossovers, as the Demogorgon also invaded Fortnite and Dead By Daylight earlier this year. The third season of Stranger Things also received an official game adaption, which we found to be…serviceable.
Last Updated: October 11, 2019