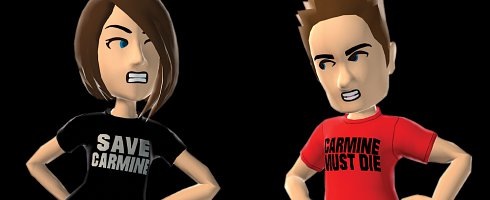 If you have played the first two Gears of War you would have noticed the unfortunate issue afflicting the Carmine brothers, namely that they always die in the single player campaign.
It was widely expected that the third Carmine brother was going to kick the bucket in the next Gears but Epic has decided to allow us, the fans, to decide whether or not Carmine meets his maker or not.
And it's all in the name of charity.
On the 29th of July Epic will be releasing 2 new avatar shirts onto the marketplace, namely a Carmine Must Die or Save Carmine shirt. To cast your vote you need to purchase one of the two with all proceeds going to the charity, Child's Play.
I love this idea for 3 reasons
We get to decide how the story goes
We are donating to charity
Hopefully we won't know the answer until we play the game keeping us in suspense throughout the action scenes
So what do you say? Should we kill Carmine?
Last Updated: July 22, 2010