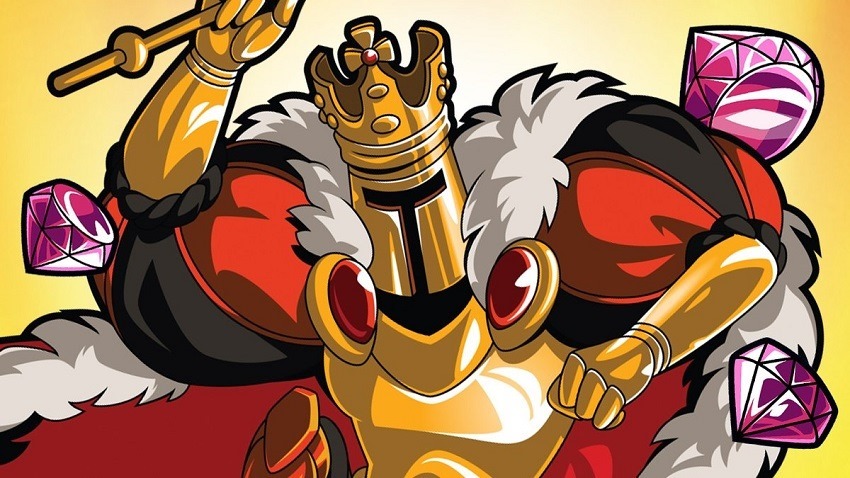 Shovel Knight is like the gift that keeps on giving. If you were lucky enough to buy the initial release years ago you've likely been inundated with free DLC since, with Yacht Games launching expansions for Plague and Specter Knights in the years after. These are full-blown campaigns fleshing out the game's lore more than its titular hero could, and it's all been free as part of the initial Kickstarter promises. The Treasure Trove package includes this too, and is still on sale pretty much everywhere for a really attractive price. And if you pick it up you still have two more DLC adventures to look forward to next year.
An expansion for King Knight called King of Cards, the third and final DLC package focusing on one of the game's villains, was announced last year already, but it finally has a release date to look forward to. April 9th will see it added to the Treasure Trove pack and sold separately for those that want it, for the low price of $9.99. The release will be accompanied by the launch of the Triple Amiibo Pack featuring King Knight, Plague Knight and Specter Knight, which was also revealed last year during a Nintendo Direct. That's a long time since announcement and release, but it's still exciting to look forward to.
Additionally, April 9th will also see the launch of Shovel Knight's latest DLC pack, which was revealed just last week. Shovel Knight Showdown is a local-multiplayer iteration of Shovel Knight and all its unique characters, adding an almost Super Smash Bros. spin to the franchise. You'll be able to select from any of the villains and heroes part of the main narrative and do battle in linear, 2D stages, making use of all new spells and attacks. It's a surprise announcement that changes the formula of the game drastically but should be good for some distracting fun.
The Treasure Trove Complete Collection will launch on April 9th too for $39.99, and feature every single bit of content for Shovel Knight to date. But if you want to save a bit, you can pick up Treasure Trove right now for just $25 and get all this new content for free when it launches. That's a great deal, and one you shouldn't pass on if you haven't yet played Shovel Knight. It's pretty great.
Last Updated: August 31, 2018