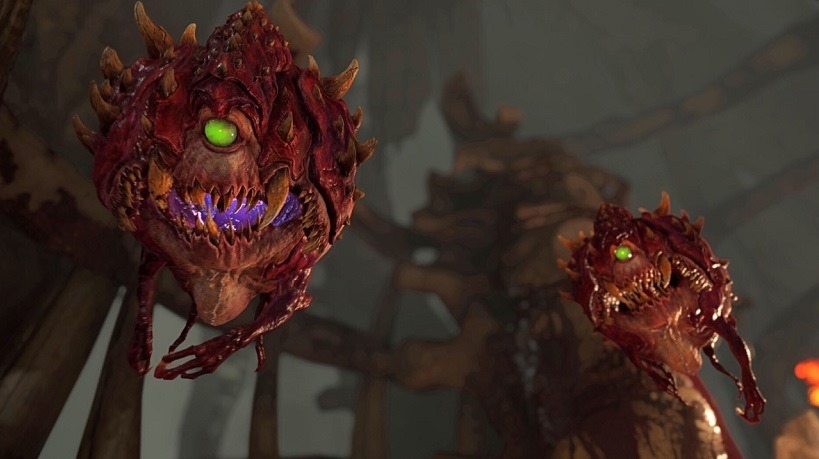 DOOM is just two weeks away, and iD Software is busy wrapping things up for the launch of a game that for so many years looked dead in the water. A sequel to DOOM has been in the making for years now, and the early tastes of multiplayer and brief single-player footage from last year as certainly got revved up excitement again. But while online arenas of death are what most are looking forward to, I'm more interested in the solo demon slayings of its campaign. And an hour of footage has increased that interest exponentially.
ID Software and Bethesda streamed just over an hour of DOOM's single-player last night on Twitch, showing off some of the focuses the solo portion the game has, new weapons and all sorts of demons dying for a chance to tear you limb from limb. There're Super shotguns, chainsaws and a bucket load of gory executions, even if the pace of it all doesn't always keep the needle at eleven.
Some interesting new features were on show too, including some new looks at how weapons work. Like traditional DOOM fare, none of them reload (aside from the Super Shotgun of course). Each of them have seemingly endless magazines of ammunition to dispense into the hordes of hell, with the chainsaw being handicapped by an ammo counter. The only omission is the pistol – which seriously is your last resort.
All weapons have primary and secondary fire modes, but also have a healthy helping of modifications that you're able to equip at the press of a button. Early on in the video the standard shotgun is outfitted with a mod that lets you charge up shots and release them all at once for greater damage, which is just one example of the roster expanding horizontally with each mod. Cycling between them seems easy enough too, giving you many reasons to switch up your strategy as often as possible.
Weapons are supplemented by the gory finishers that divided fans at E3 last year, not only making you invincible for a brief period but also rewarding you with more ammo on a kill. They bring the pace down to a crawl and still repeat a little too often for my liking, but they're the sort of thing that would just kill more squeamish viewers.
I'm measurably more excited for DOOM's single-player than I am for its more modern multiplayer, and this hour of gameplay is proof of why. It's a focus on raw combat and gunplay, and I'm excited to dive right in.
Last Updated: April 28, 2016