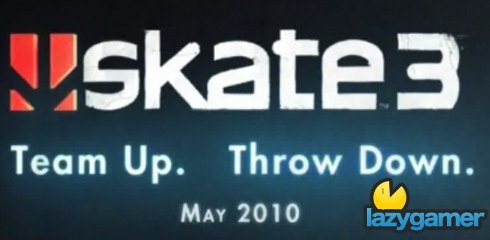 For unimportant (to the site) reasons right now I have about 2 milliseconds spare time during the day so when I came across a new video for Skate 3 I honestly thought
"Sweet an easy post".. and yes that's how my brain talks
The plan was to slap up the video, make some blurb and be on my way… but this video requires so much more than that. If you even nearly liked the previous Skate games then you have to watch this.
Some of the cooler innovations in this game is the fact that as your power grows your effect on the environment grows.
You start seeing your stickers randomly appearing, your team starts appearing in billboards and you get to add more and more people to your team.
You can either create these team mates from the editor or import your online friends Skate characters into your team… yeah that's cool.
And that's all before the true co-op even begins… I have to say I am pretty blown away by the innovation in this title and will now keep a closer eye on this one as it gets closer to May.
Update: We just found the second video that talks about the online team features, it's also pretty nifty stuff, check it out:
Source: Joystiq
Last Updated: February 16, 2010