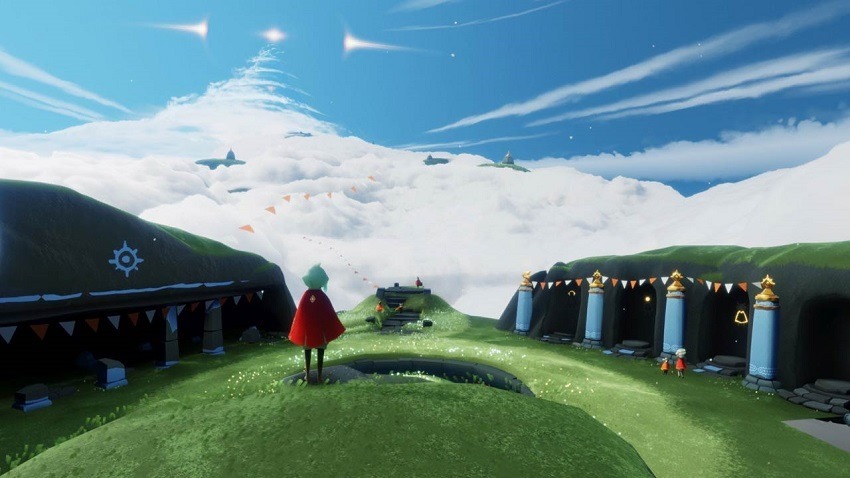 Apple's Keynotes are quickly becoming a surprising stage for game developers. Last year we had Nintendo up to reveal Super Mario Run, and this year featured the surprise appearance of thatgamecompany. The studio, responsible for acclaimed titles such as Journey and Flower, have reportedly been working on their follow-up since 2014. And on Apple's Steve Jobs stage, they finally revealed Sky.
Sky is immediately familiar, if only because of the fact that it looks a lot like Journey minus the desert. You'll take control of a mysterious robed figure and take part in gorgeous exploration, soaring through the air with the grace and lively animation that only thatgamecompany could pull off. Studio head Jenova Chen explained that Sky is a game about social experiences too, and it seems to be borrowing the same sorts of in and out cooperative play that Journey had. Although it's been expanded to support up to eight players at once now.
The game is still one that's hard to look at and know what you'll be doing, but the same could've been said about literally all of thatgamecompany's previous PS4 exclusives. The studio excels at creating emotive and emotional experiences, but Sky is also following up one of the best games to release in the last decade. Journey was seminal and still stands as one of the best games you can own on a PlayStation. Which makes Sky's initial release curious, given that it's launching exclusively on Apple's iPhone, iPad and Apple TV first.
First is the operative word there, but thatgamecompany didn't mention any other platforms during or after the event. It's likely that we'll see it come to consoles afterwards, but if you have to play it at launch, Sky will be out a little later this year.
Last Updated: September 13, 2017