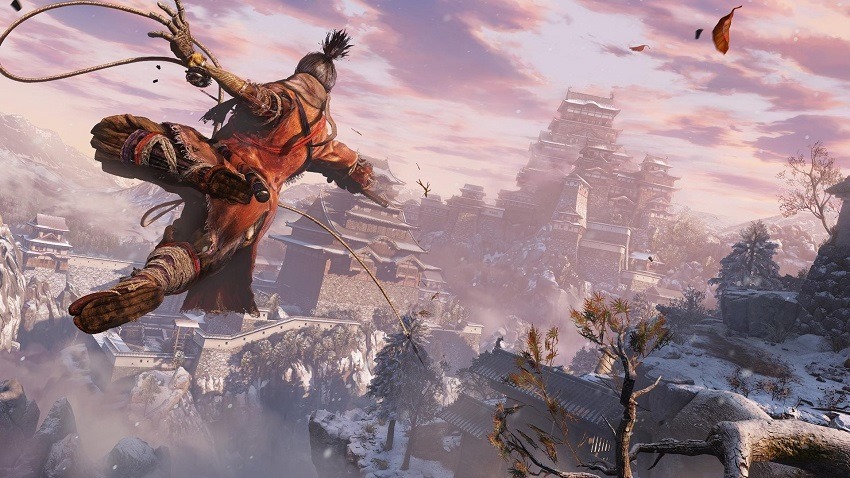 Perhaps no one expected From Software to partner up with Activision on a brand new IP, given that Bandai Namco had taken over the Dark Souls trilogy and Sony had footed the bill for Bloodborne in the past. But perhaps a new publisher signifies just how different From Software is getting with their brand new IP. Sekiro: Shadows Die Twice isn't the Tenchu sequel some expected, or the hidden in plain sight Bloodborne 2 that others rooted for. Instead, it's a faster, more action-oriented melee adventure, and it's out in early 2019.
Activision has confirmed that Sekiro: Shadows Die Twice will launch for Xbox One, PS4 and PC on March 22nd next year, just before most publishing houses start wrapping things up for their end of fiscal year financials. That's a whole lot earlier than I was expecting, but given that a 2019 date was teased at E3 it's not entirely surprising. It's incredible just how fast From Software seems to turn titles around, few of which have been short of exceptional. Sekiro is a new direction for the studio who seem to want to break free from the shackles of Dark Souls, which has been influencing their design over five games since Demon Souls back on the PS3.
Sekiro: Shadows Die Twice isn't looking like the slow-paced RPG that From Software is really known for. Instead it's more akin to character action games mixed with the traversal and exploration elements found in Rocksteady's Batman titles. That's essentially the elevator pitch fellow writer Darryn gave me after seeing the game behind closed doors at E3 in June, and it had me imagining all sorts of combinations to its gameplay that the reveal trailer actually teased quite well.
The central hook to Sekiro is your character's prosthetic arm, which seems to be pretty great at transforming into alternative weapons and nifty grappling hooks. This is core to Sekiro's alluring movement, which has you flinging yourself across combat fields with great speed, letting you drop your katana on the head of your enemies. The mystical 1500s Japanese setting is stunning too, and filled with a host of grotesque enemies in all shapes and sizes. This isn't a realistic take on the era. Perhaps it's even the furthest from it possible.
Sekiro: Shadows Die Twice is yet another footnote in an increasingly busy early 2019 period, and we should get more looks at it during the week as Gamescom continues.
Last Updated: August 21, 2018