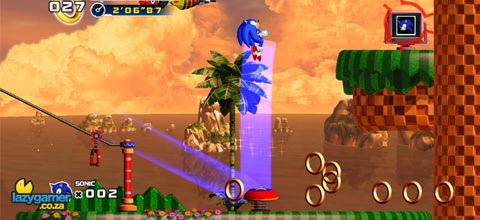 Sonic the Hedgehog is everyones favorite blue hedgehog. Come to think of it, he is the only blue hedgehog I've ever seen. Freak.
Sega has just announced that Sonic the Hedgehog 4 will no longer see its initial release window but has now been pushed back to "late 2010".
They had the following to say:
"The additional time will allow the Development Team to focus on ensuring overall high-quality throughout the game by continuing to tune, balance, and maintain the kind of polish that an important title like this demands," the press release reads, "and ultimately providing fans with an unrivalled classic Sonic feel."
Hit the jump for more.
Apart from releasing it on Xbox Live Arcade, the Playstation Network and WiiWare, Sonic 4 will also be ported over to the iPhone and iPod Touch.
This is really what all the Sonic fans have wanted all along now isn't it. We all fondly remember Sonic as a 2D game that was simple and fun, which is why most of us couldn't care less for those 3D versions released over the past years.
Source: Joystiq
Last Updated: May 21, 2010