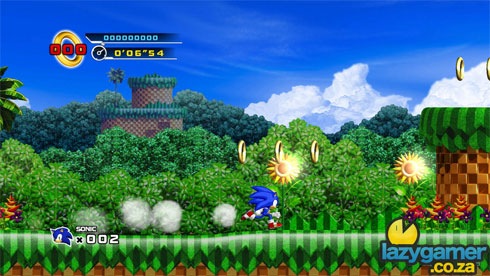 The first teaser trailer for the recently announced Sonic the Hedgehog 4 instilled within fans hope for Sonic's return to glory. Others, like myself were apprehensive, because word was the game was being developed by Sonic Team, the bunch responsible for dragging the franchise in to the ground in the first place.
Were-Hog? Sonic with a sword? Really?
If you've played either of the Sonic Rush games on the Nintendo Ds you'd know how awesome – and true to Sonic's roots – they were. Good news is that Sonic 4 will be developed by the fine folk behind those games, Dimps. Japanese studio Dimps is most recently known for its stellar work on Capcom's Street Fighter IV, as well as the Dragonball Fighting games.
Recently leaked (and then summarily retracted) videos and shots of the game reveal Splash Zone, Casino Street Zone, Lost Labyrinth Zone, Mad Gear Zone, and a Special Stage as the first in the episodic title's levels. Sneaky internet ninjas can still find the leaked video online. We'd post it here, but we're afraid SEGA might kill us in our sleep.
Anyway, it looks like Sonic 4 is in good hands – and it'll be in better hands once the final product is in mine.
Source : GameInformer
Last Updated: February 17, 2010