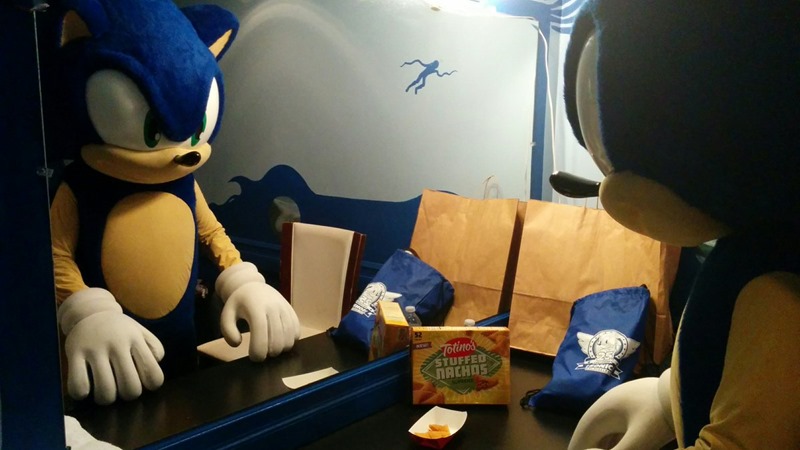 We all go through slumps from time. Robert Downey Jr, Ben Affleck and that homicidal meerkat who scratches in my black bags all had career slumps. And they all bounced back, especially that f***ing meerkat who I will one day get my hands on. But in video games? No other franchise has managed to exist in a state of pure slumpitude more than Sonic The Hedgehog. In the 1990s, Sonic ruled. He had not one but two great cartoon series, a solid trilogy of hit games on the Sega MegaDrive and his Dreamcast debut was the stuff of legend.
Since then? He happens to have fallen from grace quicker than Mel Gibson's career when he was parked near a synagogue. Sonic the Hedgehog games have been…not good lately. Even with a rebranding in the new Sonic Boom universe, everyone's favourite fastest hedgehog is still struggling to bottle that lightning again that made him such a star decades ago.
SEGA is well aware of the current state of Sonic. But they also reckon that he's well overdue for a career resurrection. "I think there is some natural up and down for any character," SEGA of America CEO Tom Kalinske said in the November issue of Game Informer via GameSpot.
We've certainly seen it with the Marvel characters over the years. We've seen it with Barbie. We've seen it with Star Wars. We've seen it with G.I. Joe and Hot Wheels. All of these brands have had their cycles. I think Sonic has had a downward cycle for a while, and it's time to have an upward cycle again for a while.
Maybe the key to reviving Sonic is to go back to basics. I'm not talking about rebranding the characters entirely as part of some massive new blitz into a world of various multiple medias. I'm thinking of examining what made Sonic so great, and finding a new angle to deliver a need for speed. Not some generic platformer which may very well be one of the worst games of the year.
Still, at least it wasn't as bad as 2006's attempt to reboot Sonic The Hedgehog, a game which many consider to be even worse, and the lowest point in the franchise so far. Right now however, Sonic will return again in Sonic Mania, a 2D platformer that is racing for that Genesis nostalgia and pure 90's speed. And something like that, actually has me hopeful for the future.
More so than that other mystery Sonic game which wants to blend the classic and modern versions of Sonic into one complete experience.
Last Updated: October 5, 2016