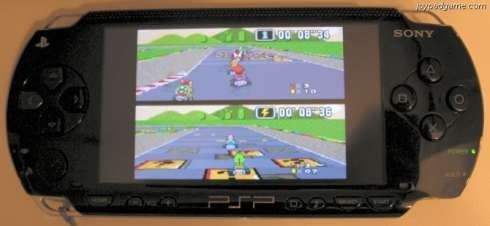 Later today the DSi breaks cover in America and if every other country is anything to go by then it is about to destroy score a couple more billion for Nintendo.
As was the case in every other country, the launch is not being hyped much but Sony has still decided to come out with a last minute statement belittling the DSi.
The official statement reads
"If Nintendo is really committed to reaching a broader, more diverse audience of gamers beyond the "kids" market that they've always engaged, there isn't much new with the DSi to support that. Significant gamer demographic groups are being ignored, and there continues to be limited opportunities for games from external publishers to do well on the DSi. Compare that with the PSP platform, where we have many blockbuster franchises from our publishing partners launching this year, representing a wide variety of genres and targeting diverse demographics. Games such as Rock Band Unplugged from MTV Games, Assassin's Creed from Ubisoft, Dissidia Final Fantasy from Square Enix, and Hannah Montana from Disney demonstrate the commitment that publishers have to the PSP. From our own first-party studios, we're launching unique versions of LittleBigPlanet and MotorStorm, and we're also planning a steady stream of downloadable games — both new titles and PSone classics — to add to the content that PSP owners can already purchase wirelessly through PlayStation Store"
Unfortunately for Sony the hard fact of the matter is that the DS has completely annihilated the PSP in sales in every continent on the planet and there is absolutely nothing that indicates that trend is going to change anytime soon.
And as Engadget points out, Sony should be more worried about the emergence of the game playing iPhone and iPod Touch which have sold a combined 30 million units and is completely targeted at the more sophisticated gamer.
Source: Engadget
Last Updated: April 6, 2009