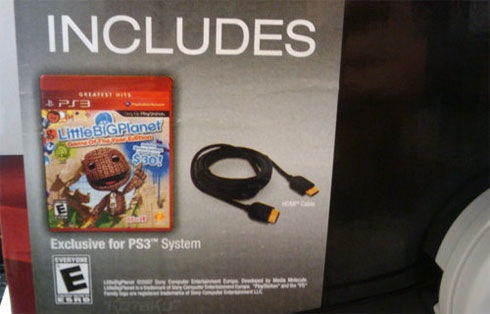 This generation ushered in he era of HD console gaming. Many plebeians wouldn't know this – not because they haven't shelled out money for HDTV's, but because the HD consoles themselves don't actually ship with HD cables.
The Xbox 360 used to; the elites shipped with an HDMI cable and the Pro's had component cables – but Microsoft went cheap and stopped doing that that. The PS3 though has never had a bundled HD cable of any sort, retailing only with the nastiest of composite cables. That looks set to change.
A new bundle has appeared in the wild that includes not only the rather excellent LittleBigPlanet Game of the Year edition, but a rather handy 6 foot long HDMI cable – so many of your less informed gamers will no longer be shot at by smudges they can barely make out.
While you and I obviously know that the HD consoles are capable of outputting in delicious 1080p, your less tech-savvy buyer tends to just buy a console, and plug in the cables that came in the box – not knowing what his or her new purchase is actually capable of.
While this is only available at the moment in said bundle, I hope this becomes this standard. I also hope MS stops being so tight fisted and resumes including hd cables with their consoles. They cost buggerall these days.
Source : Kotaku
Last Updated: June 2, 2010