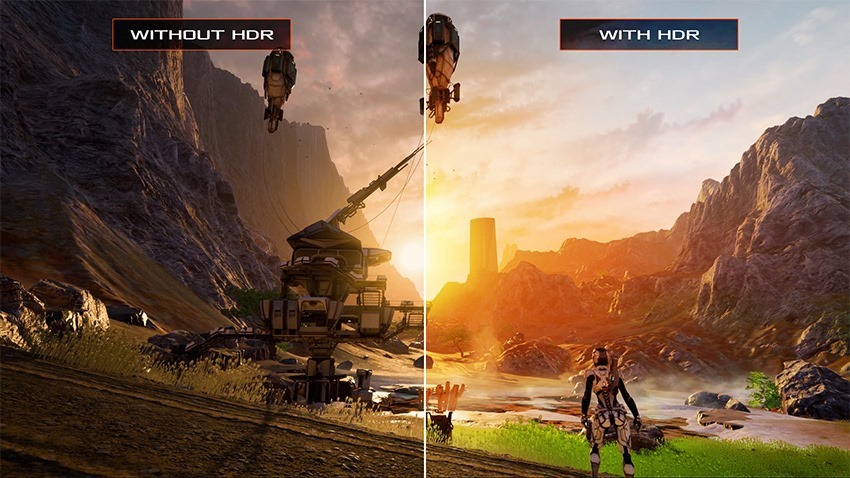 The 4K revolution hasn't been quite as successful as the TV industry had hoped. While the visual fidelity in UHD screens can be incredible, most people are just fine with their existing 1080p screens. Even my own, usually insatiable technolust didn't manage to get the better of me and I've yet to throw down the cash for a new TV.
One of the biggest drivers of new screens isn't the resolution itself though, but more the HDR lighting that accompanies them. The better 4K screens include High Dynamic Range lighting that improves the contrast between a set's brightest whites and its deepest, darkest blacks. Like many newer technologies, they're being used in gaming, but consumer response to HDR hasn't been exceptional. That's because there are no real standards on how to best implement the technology, and aside from a few standout games that genuinely use HDR in eye-melting ways, it usually ends up being poorly implemented. The HDR Gaming Interest Group wants to change that. A consortium made up of some of the biggest names in games, the group wants to set up standard practices for HDR to make the most of the tech in games. It wants to improve and elevate consumer gaming experiences in HDR, using guidelines to mitigate the variances in HDR hardware.
The group includes the likes of Sony Interactive Entertainment, Capcom, Microsoft, EA, Epic, Unity and more. There's great big document over on their site (via WCCFTech) for you to read if you're really, really excited by HDR or are a developer, but they do have "guiding principles in identifying the best practice recommendations."
Acknowledge difference
There is wide variance in how HDR content is processed in HDR displays, and the assumption that "displays perform exactly the same" cannot be taken. Each display's HDR capability should be utilized to the full extent.
Consistent and fair gameplay
Game design creative intent (e.g. a zombie appearing from the dark, an enemy shooter silhouetted in blinding light) needs to appear the same for consistent game playability, regardless of display performance difference.
Forward compatible
The existing HDR game experience should not be deteriorated, but stable or even enhanced with the improvement of future HDR display performance.
Easy to use and practical for developers and consumer
Practical and easy-to-use means must be prepared for game developers and consumers. For example, any processing should not consume resources that may affect real-time processing, and complicated manual setup operations (e.g. in-game calibration) should be avoided.
The net result, eventually, is that consumers could start seeing better HDR. That'll make those who've already invested in sets happier with their purchases, and hopefully edge a few consumers on to adopt new TVs in the near future.
Last Updated: August 20, 2018