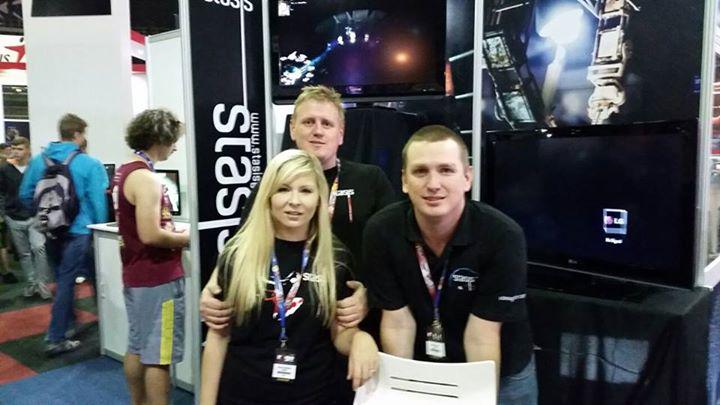 I really like Nic and Chris Bischoff, the two brothers behind Brotherhood Games who made STASIS. In my book, they are the contrast we needed in the local independent gaming scene. As the awesomely quirky and successful Free Lives head off to an island paradise to come up with their next game, Brotherhood Games is more slick and polished in their approach. They are fun and casual guys, but they don't have the usual indie uniform of beards and skinny jeans, and they are more focused on working in a traditionally professional manner – it's a nice balance for the more wild and off-the-wall studios. Plus, they seem to focus on networking with other studios, which is probably what helped them land this really cool gig.
Wasteland 3 is coming along in development, and Polygon chatted to InXile studio head Brian Fargo about it. The game sounds pretty damn epic:
Wasteland 3 will be true to the series' roots, allowing players to create a small party of characters and lead them through an isometric role-playing game in the classic style. It will tell the story of Team November, a group of Rangers sent on a mission to Colorado in the aftermath of a global nuclear apocalypse. In the opening sequence of the game, Fargo says, players will be stranded far from civilization and have to fend for themselves. Their biggest challenge early on will be staying alive in the sub-zero temperatures.
[…] "We're going to have a fucking blast with it," Fargo told Polygon. "And it's not just solving puzzles together. It's about narrative multiplayer and what can happen when the two of us are in a world, independent of each other, doing other things on the map."
So what are the STASIS guys doing to help? Well apparently they are doing some cool stuff with the graphics:
InXile has also teamed up with Brotherhood Games, which is comprised of brothers Christopher and Nic Bischoff. While they're also working on the Stasis and Cayne isometric adventure games, fans might recognize their work from a few clever experiments that showed Fallout 4 and BioShock Infinite from an isometric perspective. With their help, InXile intends to bring a new level of graphical polish to the wasteland.
The game certainly is looking pretty so far. Just check out these three screens:
Of course Chris Bischoff is mighty excited about the project, taking to twitter once the news was out:
Today was a good day. Congrats to @BrianFargo and @Inxile_Ent – WL3 is gonna be the stuff of legends!

— Chris Bischoff (@StasisGame) September 28, 2016
I am excited for this – not only does Wasteland 3 sound like it will be a gorgeous and fun experience, but it's a great sign for local gaming. The more our developers and studios can gain recognition, the more our nascent game development industry can grow and expand. Well done to all involved!
Last Updated: September 29, 2016