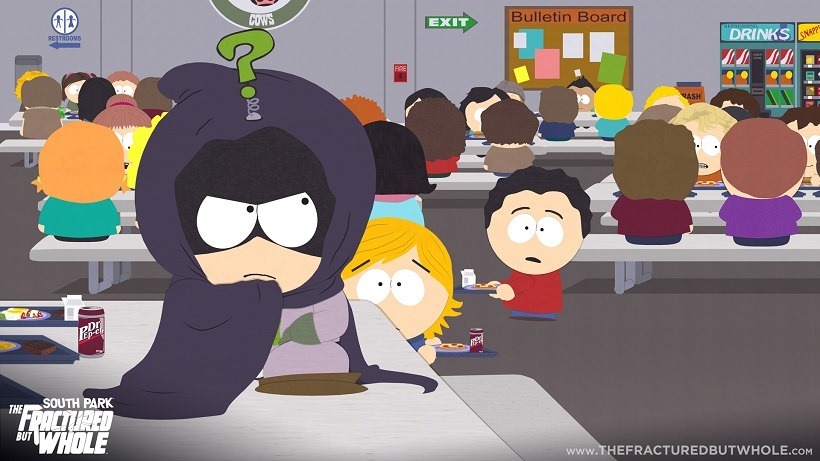 South Park has always been crass and controversial. It's part of the reason why its satire (sometimes) its often lauded (again, sometimes). Its first foray into videogames was just as successful, taking a particular narrative idea from the show and transforming it into a surprisingly enjoyable and faithful RPG. It's sequel looks rather familiar in that sense, if not only for the change in overall theming. The Lord of the Rings rip-off is gone, introducing South Park's take on The Avengers. Including Cartman's more…colourful name.
This year has been one rife with political and racial tensions, exemplified by the events of the American election and the eventual President-Elect. But if you thought that would trigger a change in the way The Fractured But Whole is marketed, you'd be sorely mistaken. This latest trailer introduces you to the overall tale that this 2017 sequel will be dabbling with, rigged with flashy introductions for most of the main characters. Most of tame – like Kenny's Mysterion or Butter's Professor Chaos. Cartman though – well you know how Cartman is.
In a way, it's kind of fitting to stick that name to a character like Cartman, who embodies some of the worst traits out of any of the characters on the show. But just like the timing of the showing at E3, it's still bound to feel a little odd for many people. And that's perfectly understandable given the rising concerns of normalism in media this year. But if you're a fan of South Park's writing, you'll likely struggle to empathise with that group, which, in a way, is also ok.
South Park: The Fractured But Whole is really all about what the show is about, and it's exactly what made the first game so unexpectedly great. But if you've never been a fan of the lines creators Trey Parker and Matt Stone cross, this likely isn't going to sit well with you.
Last Updated: December 8, 2016