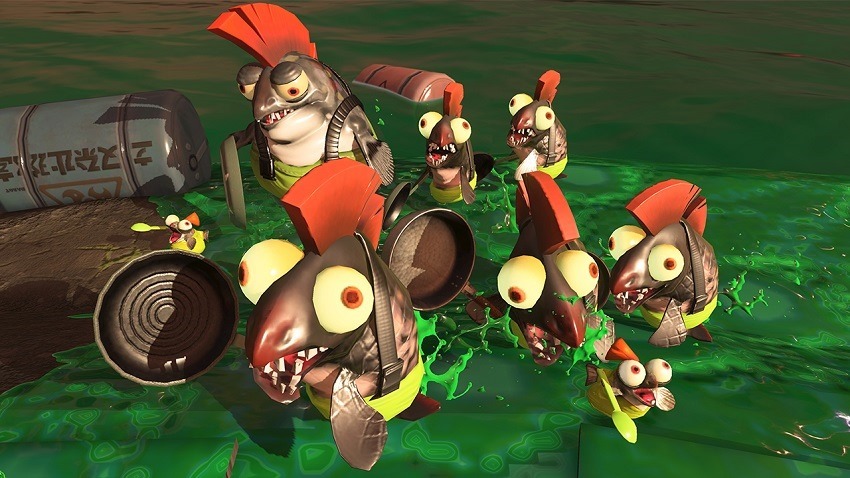 Splatoon 2 gave Switch owners a little taste the similar (but still just as great) multiplayer action last month, but it's taken Nintendo sometime to lock down exactly when we'll be getting our hands on the final version of the inky shooter. During their latest Direct last night, Nintendo not only revealed a brand new mode for the game, but locked down a release date for arguably their next biggest exclusive. And you can expect to roll around Inkopolis come July 21st.
The announcement was made alongside the reveal of Salmon Run – a brand new Horde-like co-operative mode that will ship with the game. In the new mode a team of four Inklings will battle against increasingly difficult waves of Salmon – which in the Splatoon universe look nothing like you'd expect them to. They're malformed, grotesque fish that leave dark green slime trails behind them as they attempt to cover the small island you're on entirely. It's up to you and some friends to stop that from happening.
Putting the salmon out of their misery isn't a thankless job either. Salmon Run will reward players with Golden Eggs, which have to be banked during the match to be taken back to the Inkopolis hub world. There you'll be able to trade the eggs for some exclusive gear, whether it be weapons, stat-changing clothing and more.
Speaking of clothing, a new line of Splatoon 2 Amiibo will allow you to store clothing configurations and take them between Switch devices. So if you're planning on visiting a friend for a co-operative session, be sure to bring one of the three new (gorgeous) pieces of plastic Nintendo will release alongside Splatoon 2.
It's a scientific fact that new #Splatoon2 series amiibo figures will be released – Inkling Girl, Inkling Boy, and Inkling Squid. pic.twitter.com/q6xfpJmG24

— Nintendo of America (@NintendoAmerica) April 12, 2017
With Splatoon 2 coming on July 21st and the Punch-Out styled Arms the month before, Nintendo is quickly filling the middle of the year with exclusives. Hopefully at E3 we'll get more word on what waits for us at the end of the year.
Last Updated: April 13, 2017