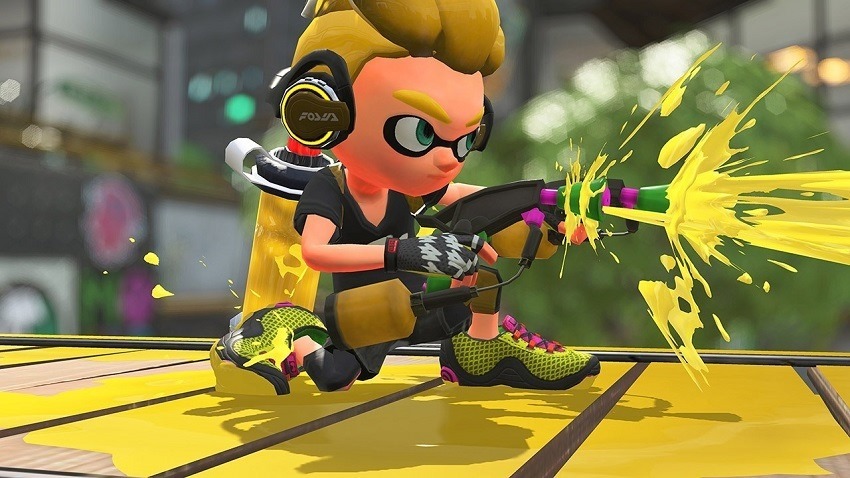 Splatoon wasn't able to save the Wii U, but at that point, nothing would've been able to do that. Despite that, Nintendo found themselves with a hot property on their hands. A colourful yet deep shooter which emphasised teamwork and playing the objective better than most other shooters on the market. So it's no real shock that its sequel is one of the biggest launches for the Nintendo Switch this year. Better still is the fact that everyone will get a chance to play real soon.
Although Splatoon 2 isn't going to be ready for the Switch launch, early adopters can look forward to giving the sequel a go just a few weeks after picking up their new consoles. Nintendo have announced the first Global Testfire event for their shooter, which will give you around six hours of online playtime to get to grips with Splatoon 2's new tricks. The beta will be segmented into specifically timed play hours (exactly like the Testfire for the first title), which will be spread across the last weekend of March.
March 24

12:00 to 12:59 p.m. PT / 3:00 to 3:59 p.m. ET
8:00 to 8:59 p.m. PT / 11:00 to 11:59 p.m. ET

March 25

4:00 to 4:59 a.m. PT / 7:00 to 7:59 a.m. ET
12-12:59 p.m. PT / 3:00 to 3:59 p.m. ET
8:00 to 8:59 p.m. PT / 11:00 to 11:59 p.m. ET

March 26

4:00 to 4:59 a.m. PT / 7:00 to 7:59 a.m. ET
Considering Splatoon 2 was available to play when Nintendo formally detailed the Switch last month, it's no surprise that some of the newer stages and weapons are ready for more public consumption. That might not mean that the final game is anywhere near ready. Despite the Testfire for the first Splatoon being just three weeks before the game's launch, Splatoon 2 is only listed for a summer release. That's still a few months away, which makes this early test a bit of a treat.
It'll also give everyone their first real look at Nintendo's online platform, which is moving features such as voice chat to a mobile app for your smartphone. It'll also be the first time Splatoon has this functionality, with the app also allowing for play session reminders, friend requests and more.
The Nintendo Switch launches on March 3rd.
Last Updated: February 13, 2017