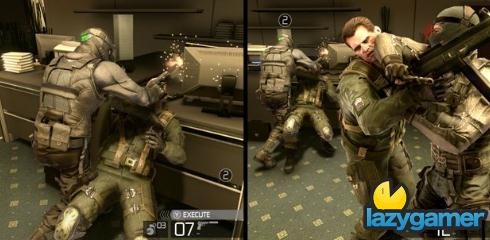 I received a PR email over the weekend which goes into detail about what we can expect from Splinter Cell: Conviction's Co-Op and Deniable Ops missions.
As has been mentioned before the Co-Op campaign is a prequel to the main story and throws the Russian Kestrel into a campaign with his arch enemy, the American Archer, where they need to work together to save the world.
However Co-Op isn't just a quickie on the side, the campaign includes 4 exclusive new maps along with new characters and settings that will add around 5-6 hours of gameplay. That's more than MW2's single player campaign.
Then we get the 4 different modes for the Deniable Ops Missions. These being
Hunter – Kill everyone and clear the stage, when you get spotted more re-enforcements arrive.
Last Stand – Defend the EMP against waves of enemies, if you hide they go directly for the EMP. If you are in the open they go for you.
Infiltration – Kill everyone without being detected (Sounds like Hunter to me)
Face Off – Spy vs Spy mode where you earn points killing the enemy AI and each other. Should be fun.
These modes are spread over 6 maps and you will earn points in every mode that will help you level up to unlock new weapons, clothing, armoury and gadgets.
Last Updated: March 8, 2010