By Michael "Axtremes" Harmse
Internationally, the world's biggest brands are investing in esports. Locally, we've seen huge brand names like Samsung and Red Bull spending their marketing money on esports events. Can potential sponsors gain value from involvement in the South African scene?
Magic beans
Esports is seen as a growth industry worldwide, with many industry market reports pointing to record growth in 2018. Newzoo's somewhat optimistic numbers put the global esports economy at $905.6 Million for the year. This represents growth of 38% over 2017. The one thing that is clear is that the esports industry is registering growth the likes of which physical sports have not seen in decades. That makes esports inherently attractive to brands that haven't traditionally invested in it. ASUS or Hyper X would be examples of endemic sponsors within esports, while Mountain Dew and Audi are examples of non-endemic sponsors.
For many consumer brands, esports is that mythical bag of magic beans that Jack uses to grow a giant beanstalk in the fairy tale. Whether a metaphorical murderous giant is waiting at the top or immeasurable wealth remains to be seen in the case of esports. The prospect of where this is all leading and the potential profits that could be gained by getting involved are what gets potential sponsors salivating. Even traditional sports franchises are getting in on the act, snapping up esports teams with regularity.
Examples like the Philadelphia 76ers acquisition of Team Dignitas, F.C. Copenhagen's establishment of North CS:GO, and Paris Saint Germain's partnership with LGD Dota all point to one thing. Esports is where large corporations and sporting conglomerates see massive potential. So many have invested that I could spend an entire article just outlining those strategic partnerships and purchases.
Sponsors, hello?
There's been much said about the low viewership numbers many of South Africa's premier tournaments tend to yield. Viewers merely in the hundreds are surely not what sponsors are looking for, most reasonable people would argue. Would a few thousand perhaps satiate a large company's desire for marketing reach? I'm not so sure that it necessarily would. As a layman's metric for how well a tournament is doing, viewership is a useful measure.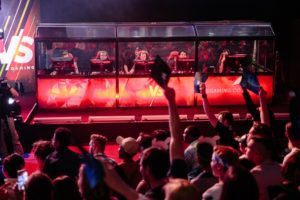 For sponsors, it is most definitely important, but it's not the be all and end all of their marketing efforts. Things like social media reach, tweet impressions and engagement are equally important. After all, not everyone that's interested in watching a stream will necessarily be available or able to do so when it is live. Brands want to know how eagerly the audience engaged with the content surrounding the event. That means not just the tournament streams, but promotional videos, articles, interviews, and influencer posts and tweets relating to the event.
This kind of information is not always public knowledge of course, but it's essential for brands to justify their involvement in anything they spend marketing funds on. My point is that viewership alone does not determine whether a big brand sees a return on investment. It's about the entire marketing mix and how people engage with it. How would I know, you may ask? I was a brand manager for a large consumer electronics company and a marketing manager before my life in esports.
Barrier? More like force field
Right now South African esports fans are not nearly as numerous as many of us would like. A large part of the equation comes down to access. Broadband internet at affordable prices is not a reality for most of our population. With mobile data costs that are the highest among Africa's big economies, our telecommunications giants are certainly not helping our economic growth. Neither are they, by extension, helping esports. Until affordable access is more widespread, we may struggle to see viewership numbers climb significantly. Access also proportionally affects social media and content engagement.
Whether the country's average citizens might even want to watch esports at all is another subject entirely. I'd venture a tentative "no" for most of the population. There is undoubtedly a possibility many viewers might embrace esports if given the opportunity and exposure to it. Like with any sport, taking the time to watch it for a few minutes generally helps a person make up their mind on whether they'd want to see more. As it stands, that's not even within the realms of possibility for most in a country with high data costs and 26.6% unemployment. The good news is that access costs will change in the coming years as it is on government's radar.
Size does matter
In my opinion piece about the rapid growth of South African esports, I ruminate on whether perhaps the sheer scale of 2017's tournaments may have set us back in 2018. The short answer is yes. If prize pools number in the millions and expenditure exceeds that several times over to stage a large esports event, then everything I've said about viewership and engagement is a moot point. Return on investment is simply not possible.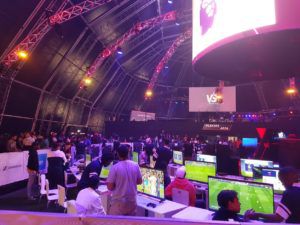 More regularly staged, but smaller and therefore more sustainable tournaments would easily provide the kind of return on investment companies are looking for. Big sponsors don't always want to go big from the start. Many prefer a proof of concept first. Smaller events provide an avenue for sponsors to dip their toes in the water so to speak, without expending huge sums of money. Large-scale esports events in 2017 were often fool's gold for advertisers and sponsors.
In conclusion
Yes, there is value to be found for sponsors in local esports. It just needs to be approached with an eye on sustainability. Handled that way, there is sufficient reach and engagement to satisfy expectations. Tournament organisers need to be more responsible and not try to sell brands a utopian vision of massive returns. Now is a good time to get involved for brands in the space because it's still small and all indications are that it will get bigger.
Once data costs start to decrease, it could change rapidly. Trying to artificially hype the SA esports industry's size and scope is disingenuous and downright dangerous for the future of esports. We can't afford to alienate potential future partners by what is done now. I would advise a modicum of restraint. Let's do it correctly, rather than blow it for the sake one-upping the last big prize pool.
Get your fix of local esports news, insight and opinion at Esports Central
Like esports?
Check out esports central
Last Updated: May 31, 2018