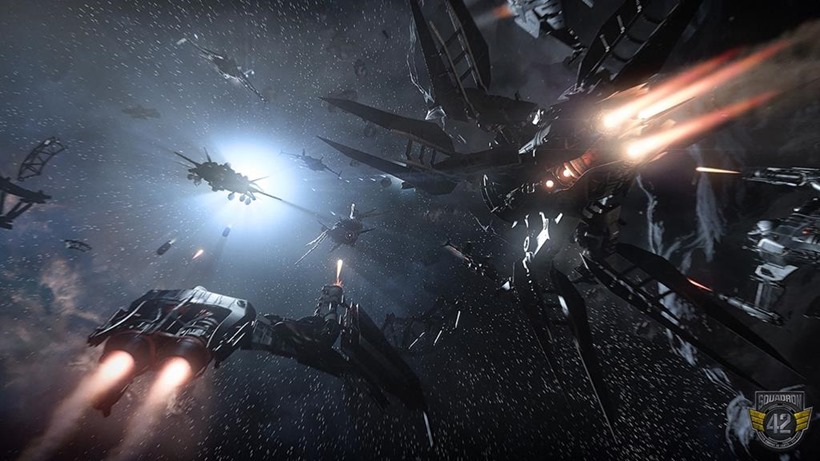 At this point in time, you either believe in Star Citizen with a religious fervour reserved for surprise visits from the Spanish Inquisition, or you've got a healthy dose of scepticism towards the finished product ever seeing the light of day. Whatever your inclination, you've most likely also got some questions that you'd like answered about Star Citizen, questions for the main man himself Chris Roberts.
And I get you! As has become the regular tradition, the Star Citizen boss has begun the year with his frequent state of the nation address, "10 for the chairman". Here's the video below where Roberts answered questions regarding in-game penalties for hooligan players, collectibles and the current status of the FPS module:
And if you don't feel like sitting through the video, here's a transcript of the questions and answers:
2-STEP VERIFICATION FOR LOGIN?
It's in the planning stages to be implemented soon.
IF PART OF THE CREW ON A MULTI-CREW SHIP AND THE OWNER DIES OR GOES OFF-LINE DOES THE SHIP GO WITH THEM?
No. The idea is the would be not to have the ship disappear under you but we there are some processes to work so it can't be abuses which we'll be getting to from 2.1 onwards.
IS THE AVERAGE SYSTEM GOING TO BE ABLE TO PLAY THE GAME OR ONLY HIGH-END?
Optimization is ongoing and nowhere near being done, since the game isn't finished yet, but the goal is to get mid-level machines to run the game well not just high-end.
ABILITY TO PICK UP RANDOM OBJECTS INCLUDING PLANTS?
There will be collectible memorabilia on some planets. It isn't known yet if you will be able to pick individual plants in a field but the potential is there for the future.
WHAT ARE YOUR LONG TERM PLANS TO DETER OR PUNISH PLAYERS FOR POOR BEHAVIOUR?
We view the Mini PU as a sandbox testbed, we don't want to build in a "nanny state" from the beginning but we'll evolve systems where we see players abusing things. We've always had plans for bounties with both NPC and player enforcement.

When you are attacked your ship broadcasts it. If the broadcast is picked up by Communication Satellites and the attack was in a safe zone a bounty will be placed on the attacker.

This may also lead to emergent gameplay like taking down Communication Satellites before a heist which in turn will spawn missions like you currently see in Crusader. As we get more more persistence in-game we'll also start putting in elements of reputation.
HUD MODES AND CUSTOMIZATION.
Yes in the long run there will be widget customization and the ability to set monitors to default modes. Also plays a big role in creating a better experience for new players who are just starting out. Tutorial updates/changes.
WILL CREW MEMBERS ON MULTI CREW SHIPS BE ABLE TO RESPOND TO EMERGENCIES ABOARD THE SHIP?
Yes, crew members will have to repair the ship as it takes damage. The pilot will eventually be able to assign functions to a co-pilot and the Engineering Stations aboard a ship. These are tied into the new item system hoping to premier in 2.3
HOW MANY VERSIONS OF ALPHA 2.0 BEFORE WE GO TO 3.0?
It's not been decided yet as there is some major things to come in the 2.x drops.
WHAT'S THE PLAN FOR STAR MARINE?
To clear the misconceptions some people have. Star Marine was never cancelled, it's just the elements of FPS were ready at the same time all the other assets were such as Large world, 64-bit, etc so it made sense to do SC Alpha 2.0 as it is now and as the FPS features come online we will put them into the next releases such as 2.2., 2.3., and 2.4.
When the basic FPS features are complete, we will then release Star Marine in Arena Commander style with lobbies and such, but for now we will continue to use SC Alpha as our test bench for FPS and other content.
WILL THERE BE DOGFIGHTING INSIDE LARGE STRUCTURES IN SPACE?
There will be dogfighting in SQ42 very close to the Shubin Stations structure. There are plans also for battles inside asteroid fields and similar. If this can be implemented into the PU it will be as it rewards good flying skills.
Personally, I'd punish unruly Star Citizen players by making the game switch on an emulated version of The Last Dynasty for them to suffer through. Star Citizen is still deep in development, and is now sitting on a pot of over $106 million in crowdfunding alone.
Last Updated: January 27, 2016