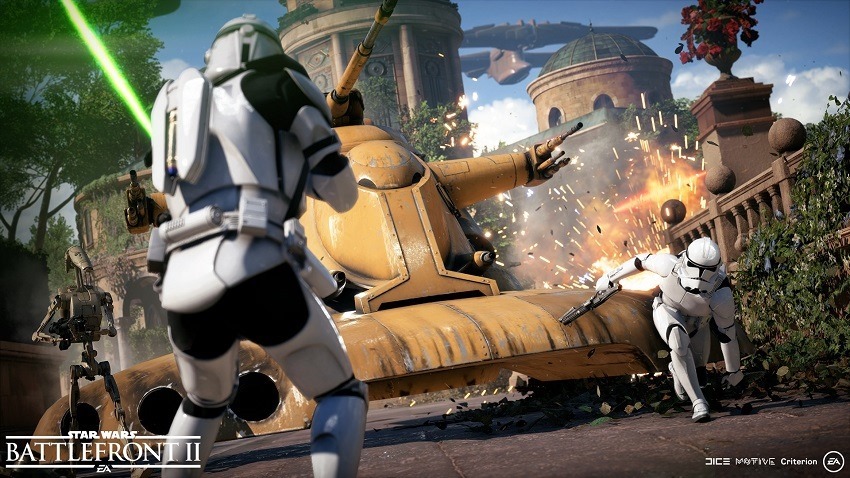 Star Wars Battlefront II is out next week (and already up to play if you're in either EA or Origin Access), and the feature I'm most looking forward to is its single-player story. Iden Versio, a new Imperial Commander who is rocked after the events of Return of the Jedi, leads the shattered Empire on a road of revenge. And considering there's a big gap of knowledge between that and The Force Awakens, it seems logical for DICE and Motive to want to fill in the blanks.
While Battlefront's vanilla tale might not have enough time to reach out and do that entirely, its first batch of free DLC is already planning to add to it. As part of a bigger package, the first wave of content will include a new chapter in Versio's tale. One specifically pertaining to the Empire transforming into The First Order, which is a story I definitely want to see play out in canon.
There's also a host of new multiplayer content that will launch next month too, with EA laying out the roadmap on the game's official website.
It all starts with choosing a side. On December 5, you'll have an opportunity to align with the First Order or choose to fight for the Resistance. Your choice is important, as it will allow you to take part in special challenges that will grant your faction specific rewards.

Things kick into high gear on December 13. Your favorite stormtrooper-turned-hero Finn joins the fight for the Resistance and Captain Phasma steps on to the Battlefront for the First Order. They can be purchased with in-game Credits that week. Whichever faction is victorious in completing the most challenges that week will net a reward as well: a special Crate of high-power upgrades for Finn or Captain Phasma.

New locations and vehicles will also arrive. On December 13, the cinematic content from Star Wars: The Last Jedi continues with a new planetary map: Crait. The Starfighter Assault map of D'Qar will join as well, plus a new hero ship –  Tallie Lintra's RZ-2 A-wing. Poe Dameron's T-70 X-wing is also upgraded with a new ability inspired by Star Wars: The Last Jedi .

Iden Versio returns. In Star Wars Battlefront II Resurrection, you'll join Commander Iden Versio during the days of the First Order's rise to power. These new chapters of Star Wars Battlefront II's single-player story mode will be available December 13.

Your choice of faction will continue to matter. Throughout December, you'll see your chosen faction's progress reflected in-game, as you fight alongside allies from around the world to swing the tide of battle.
Battlefront II's multiplayer is still under scrutiny for its lootbox implementation (even after the drastic changes) and we're putting it through its paces ahead of our own review next week.
Last Updated: November 10, 2017