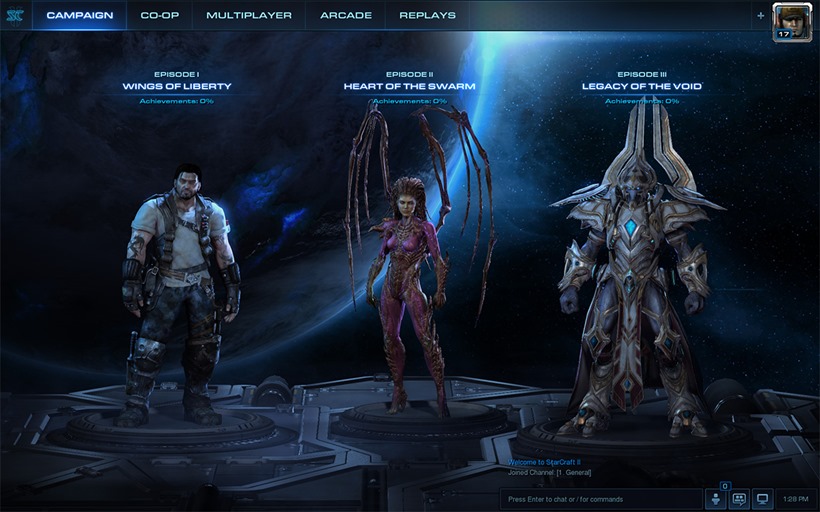 On November the 10th, the world will finally get their grubby paws on Legacy of the Void – the Protoss component of the StarCraft II Trilogy. Blizzard have been hard at work, and not just on the campaign and multiplayer component of the upcoming expansion. No, they're giving the StarCraft II user interface a complete overhaul too.
This new UI will not be exclusive to Legacy of the Void owners. It'll be available for everybody when Patch 3.0 lands. Here's an overview of the changes that can be expected:
We've made major changes to the StarCraft II user interface as we prepare for Legacy of the Void and wanted to share what we've been working on and the reasoning behind the new design. The changes below will be released with Patch 3.0 and everyone will be receiving the update, whether you only own Wings of Liberty, Heart of the Swarm, or even just the Starter Edition.
Our major goal with changing the user interface was for StarCraft II to be a more social experience. With this in mind, we examined the chat system and identified two major drawbacks with the multiple window chat system.

The first issue was having to frequently minimize windows, which resulted in players being unable to quickly read and respond to chat. Secondly, we didn't like how you had to leave an empty window open if you didn't want to miss when someone joined an empty chat channel, potentially increasing the clutter on your screen.
If you would like to read about the changes in more detail, you can do so right here. My favourite addition by far though has to be the new look of the campaign screen as shown in the header image of this article. Look familiar? It will… if you played the original StarCraft.
There is no solid release date for Patch 3.0 just yet, but my bet is that it'll release a little closer to the launch of Legacy of the Void.
Last Updated: October 6, 2015