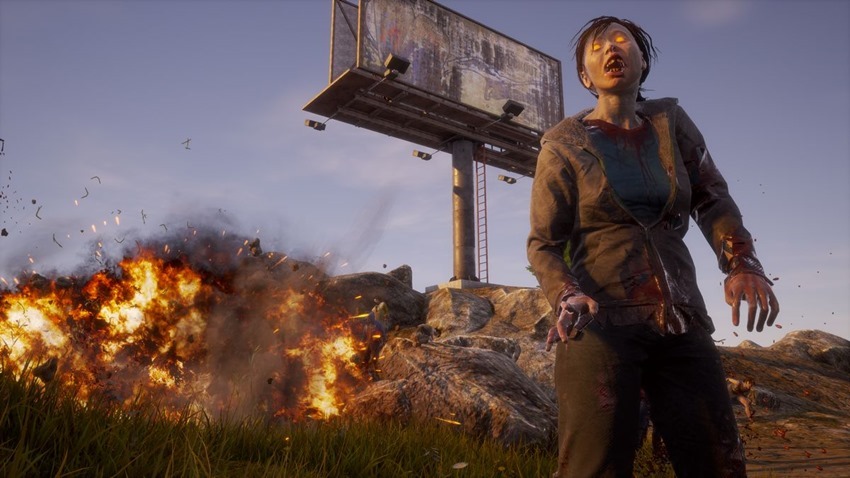 I really enjoyed State of Decay 2, even if it was somewhat buggy, and lacking polish. Here's what I said in my review:
"It's quite simple. If you loved the first game, you'll appreciate the changes, like a more structured take on base building and community management. There are fantastic systems, hampered by repetitive and shallow gameplay that ultimately feels pointless. State of Decay 2's scale and lower price don't quite make up for its lack of polish."
The game received a day one patch that helped, but the game was still a little on the rough side. A new 20GB patch hopes to fix that. An extensive update has effectively replaced the entire game that includes fixes to the games networking code, stability fixes, as well as numerous, welcome bug fixes.
Increased stability
Improved networking interactions for clients
Improved networked vehicle interactions
Elimination of Out Of Memory crashes
One of the most important of them is that the lumbering undead are no longer immune to assault kicks. Along with that is the welcome fix to grenades sometimes getting stuck behind your own head when you've tried to throw them. Here're the highlights:
Grenades no longer get stuck and explode in front of client character's face or behind their head while throwing
Fixed instances of clients dealing damage to their host's non-active community members with explosives
Flashlight beams no longer cast shadows from the player's character model (which had caused flickering shadows)
Characters no longer "self-shadow" when using a flashlight in multiplayer
Fixed issue with doors appearing the opposite of the state they are in
Resolved situation where, when getting into vehicles, the camera could become detached from the player's character
Fixed issue where, when clients swap weapons while in vehicles, the weapons do not swap upon exit from vehicle
Fixed rare bug that could prevent Warlord legacy arc from being completed
Fixed rare bug that could block Sheriff legacy arc from starting
Fixed issue where player's loot sometimes becomes invisible until their entire backpack is deposited into a Supply Locker
There's lots more, which you can see over at the official site.
"I just wanted to drop in a quick personal note on behalf of the development team to thank you for your support and for jumping in with us on State of Decay 2," says Undead Labs studio head Jeff Strain. "This patch today is just the beginning — we have big plans for State of Decay 2, and we're humbled and appreciative to you for giving us the opportunity to make those big plans happen. Keep playing, keep surviving (or not, as sometimes happens), and stay tuned for more good stuff!"
Last Updated: June 4, 2018