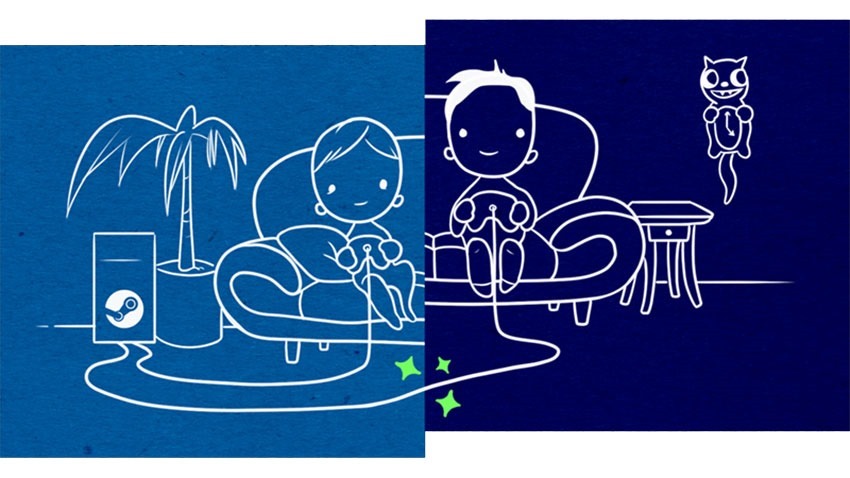 Last week, we told you that Steam would soon launch the beta for its new feature, Remote Play Together. It's a new Steam feature that uses remote play to allow for online multiplayer in games that don't explicitly support playing online. Games that have couch adversarial or co-op modes can now be played over the Internet. It's a perfect tool for nerds (like me) who have no real-life gamer friends and engage with people almost entirely over the internet.
To use the feature, you need to opt into Steam Beta. To access the beta, go to your Steam preferences and set your beta participation to Steam Beta Update. Once your Steam has updated to the latest beta, all you need to do is start a game up and invite a friend to play. The Remote Play Together tab will allow up to four players (and in some situations, more than that) join in on the multiplayer fun.
What makes it even cooler is that only the host needs a copy of the game – while the other three leeches can just tag along. When they connect, it automatically connects their controllers to your game, and you have the option of giving them mouse and keyboard control. They won't be able to take full control of your Desktop, and the remote play session won't beam your PC desktop or other sensitive information over the internet.
To sum, Remote Play together allows you to:
Play local multiplayer games with Steam Friends online
Stream video, audio, input, and voice between players
Use your own controllers, or share control of the keyboard & mouse
Play together across PC, Mac, and Linux
It's a nice feature and another differentiator between Steam and the competition. It's probably not enough to stop developers from jumping over to platforms that offer them more money, but it's definitely a nice-to-have.
Last Updated: October 22, 2019