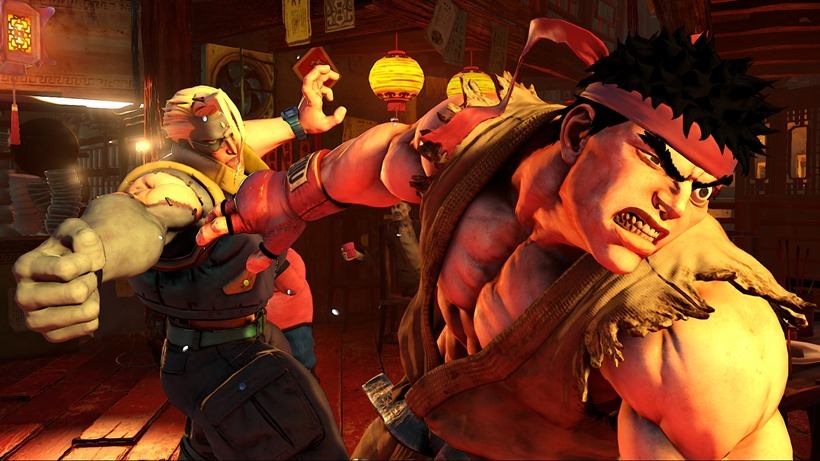 It might not seem like it with all the parading Sony has been doing, but Street Fighter V is not only coming to the PS4 early next year. As already revealed, the highly anticipated fighter (well, anticipated by Geoff and Darryn at least) is also coming to PC – where you'll end up just using a controller anyway to play the presumably identical experience. Aside from a controller, there's a few other things you're going to need to get ready.
Capcom has revealed the PC specifications for Street Fighter V, giving you just a few short months to prepare before the game launches sometime in Q1 of next year. One would assume that the recommended specs for a fighting game wouldn't be extremely demanding, and you'd be half right. Street Fighter V, it seems, requires a little more graphical horsepower than you probably expected.
OS Version
Recommended: Windows 7 64-bit
Processor
Minimum: Intel Core i3-4160 @ 3.60GHz
Recommended: Intel Core i5-4690K @3.50GHz
Memory
Minimum: 6 GB DDR3
Recommended: 8 GB DDR3
Graphics
Minimum: Nvidia GTX 480 (or higher)

Nvidia GTX 570 (or higher)
Nvidia GTX 670 (or higher)
Recommended: GTX 960
Network
Broadband Connection Required
DirectX Version
Minimum: DirectX 11
Recommended: DirectX 11
Sound Card
Minimum: DirectX compatible soundcard or onboard chipset
The minimum requirements are easy to hit, but take a look at the required specs and things take a surprisingly large jump upwards. The GTX 960 isn't a flagship card by any means, but it is still a fairly powerful piece of hardware that outpaces a lot of the 700 series cards it was designed to replace. And being a competitive fighting game, you'd want to make sure that you're able to maintain a silky smooth 60FPS.
Street Fighter V will support Steamworks at launch, and will also not have any pesky DLC baked onto the disc this time (we're still watching closely Capcom). The game is coming to PS4 and PC early next year, and will sadly never be coming to the Xbox One. You can, however, still play it with an Xbox Controller on PC if you really, really want to.
Last Updated: September 23, 2015