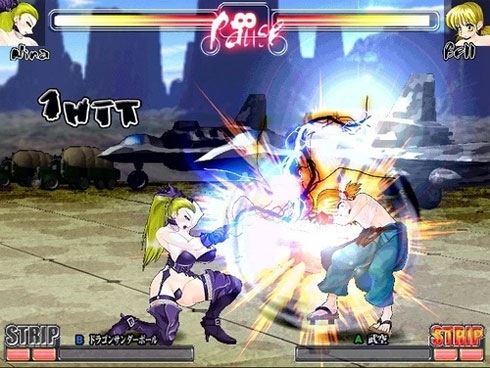 Are you – like me -Â  sitting waiting patiently for Super Street Fighter IV? Are you a pubescent boy? Does the sight of barely clothed animated characters get you gooey? Doujin circle Studio S have created just the thing for you.
An obvious parody of Capcom's superior fighting game, Super Strip Fighter IV has you aiming to not merely beat (hur hur) your opponent – you have to try remove their clothing. Qnd rape them with tentacles. Probably. My Japanese is a bit rusty.
The game features an eclectic cast of characters including 15 women in skimpy clothing and one rather hideous fat dude. Hey, I'm not judging – that might be just your thing. It makes subtle and not so subtle nods to other fighting game franchises, like King of Fighters and Tekken. It also features lots of mammaries that could really be enhanced by a little work from Team Ninja.
I'll say it now – this game is godawful..but at least it gives me something to do with my stick until Super Street Fighter comes arrives. If only it could be played with one hand…
If you're fluent in Japanese,  check out the site here – where you can also order the game.
Last Updated: April 30, 2010