By Chris 'Sargon' House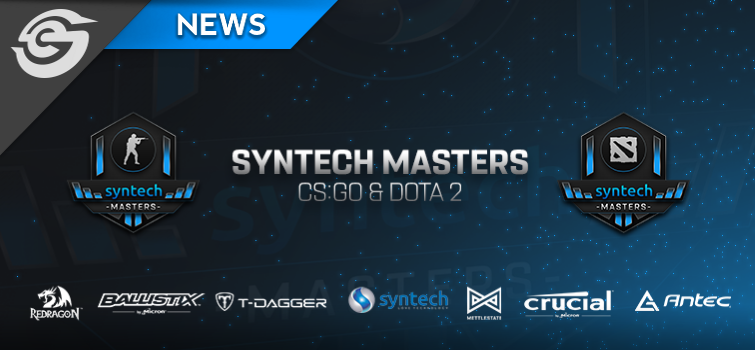 Syntech and Mettlestate recently partnered up to announce the Syntech Masters 2019. There will be over R150,000 in cash and prizes up for grabs for competing Dota 2 and CS:GO teams. The announcement breaks down the competition (and prize pool) into two divisions per title: Open and Pro Division. Teams will have to take participate in an open qualifier to be placed into divisions, and then each division competes for the prizes on hand. Interested teams can register via the Mettlestate website directly. Sign ups are free. However, CS:GO players must be a part of the Mettlestate ESEA Club in order to take part. Teams can register here.
Syntech is a local distribution company that import and sell electronic products throughout sub-Saharan Africa. They are the official distributors for the brands sponsoring this tournament. These brands are; Crucial, Ballistix, Antec, Redragon, and T-Dagger. Syntech has hosted multiple esports tournaments over recent years, including the Crucial Cup and the Ballistix Masters. They appear to have rebranded their esports tournament in 2019, with a focus on grassroots development of the scene (as well as working with Mettlestate for the first time).
How does the Syntech Masters work?
The Open Division is an online only league that is perfect for newer/amateur teams. It also features R60,000 in hardware prizes for the top three placing teams at the end of the season. This means that per title there is R30,000 in hardware available. We've heard that the sponsors are putting up the gear, so you can expect top of the line Crucial SSDs, Ballistix gaming memory, Antec PC compenents, and Redragon/T-Dagger peripherals to be dished out. This provides top of the line gear to aspiring esports players/gamers, enabling them to better compete at the highest levels.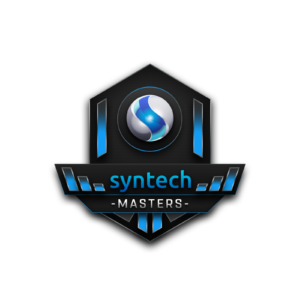 Alternatively, the Pro Division league features R90,000 in cash prizes. This means that each title will see R45,000 up for grabs, split between the top three placing teams. Teams will have to compete in the online group stages of the Pro Division first. The top four placing teams advance from the Pro Division to a LAN Finals playoff. The finals show theme is "the Summit Style", which means competing LAN finalist competitors will provide commentary on the finals as they're happening. Keep up to date by following the official tournament Facebook page.
Syntech Masters LAN Finals
The dates haven't been finalised as yet, but we know a little about the event. Interested to know how Adastam breaks down the opposition strategy? Gotcha. Want to hear acg flame his rivals? Done. Hoping to understand why that nade was thrown? Zerochance may have you covered. All in all, this format means you'll be getting top tier tips from the best local players as the LAN Finals unfold. If you've ever wanted to hear what the players truly think about the local games you love, then these finals are for you!
The focus on informal player insights is one that we haven't seen in South Africa as yet. It might provide a unique spin on the usual esports event we've seen before. The LAN Finals are double elimination BO3 brackets. I expect to see Goliath Gaming and Sinister5 feature heavily, as both teams have been dominating recently. That doesn't mean it's easy pickings for those teams, as there are ample quality players in the scene that can get together and cause an upset. Then with regards to the Open Division, it's really anyone's game. This is the perfect opportunity to see some new blood emerge!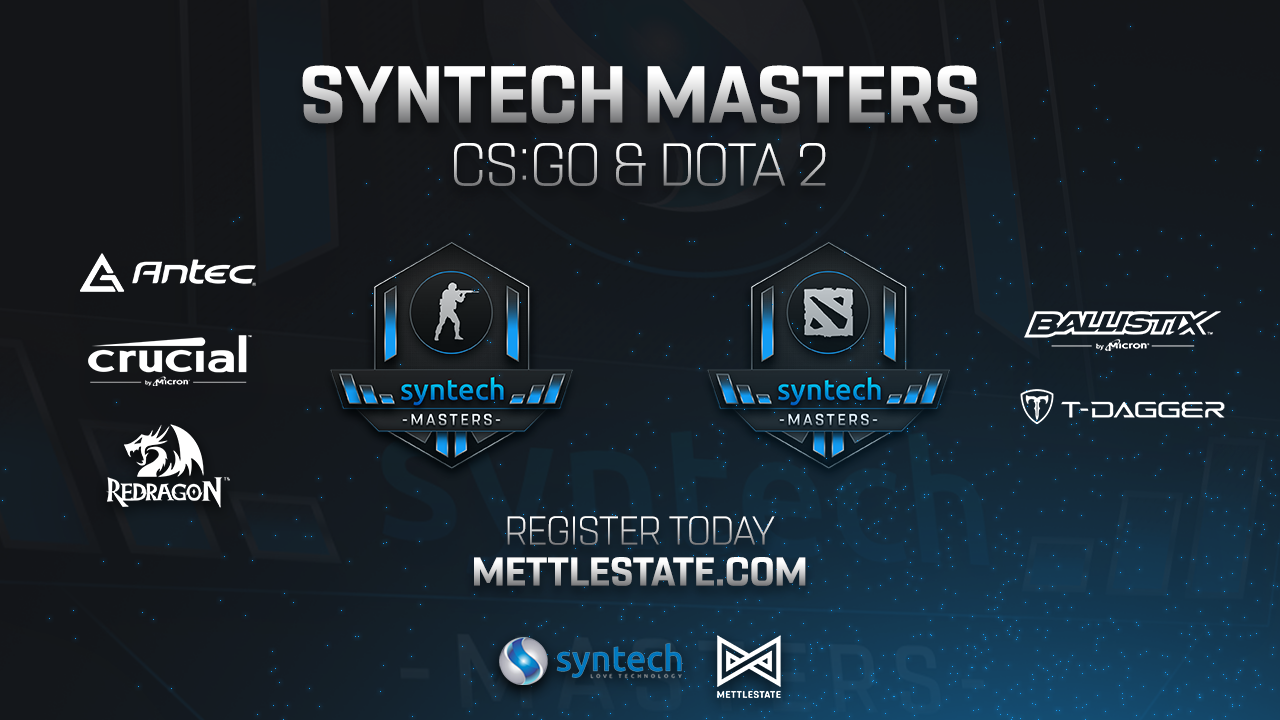 Image courtesy of Mettlestate.
Prize breakdowns
We've broken down the prize breakdown below. As far as we've been told, the cash prize values have been confirmed. But please be aware that the hardware breakdown has not been 100% confirmed as yet. Wait for an announcement from Syntech or Mettlestate for more information on this.
Pro Division (per title):
1st – R30,000 cash
2nd – 10,0000 cash
3rd – R5,000 cash
Open Division:
R30,000 worth of hardware per title (split across top three teams)
Original Syntech Masters Press Release
Syntech have supported the local gaming and esports community with a variety of tournaments over the years. In 2015 they hosted the Crucial Cup, which transformed into the hugely successful Ballistix Masters (running from 2016 to 2018). In 2019 Syntech has returned to bring you their biggest tournament yet; with a new name, new partners, and an all new look.
Welcome to the Syntech Masters
The rise in popularity of the Ballistix Masters over recent years has seen renewed focus on supporting "grass roots" development in esports in South Africa. The Syntech Masters puts fresh focus on development of the local scene, along with the aid of partners that share Syntech's passion of growing esports in South Africa from the bottom, up. Mettlestate, with their track record of successful tournaments, quality production and emphasis on inclusion at all levels of esports, aligned well with Syntech's goals. Mettlestate also provides the admin power and facilities to be able to run a multi-titled tournament. It therefore comes as no surprise that Mettlestate have partnered up with Syntech to become the official tournament hosts for the Syntech Masters!
Barry Louzada, co-founder of Mettlestate, is excited for the new partnership.
"Mettlestate is constantly trying to find new and exciting partners to help forge the future of South African esports. Syntech, with its brands, community and passion for gaming, made for an obvious choice. The Syntech Masters is sure to be a 'first of its kind' event in South Africa, and we can't wait to show you what we have in store!"
Craig Nowitz, Managing Director from Syntech, added,
"Syntech remains steadfast in our commitment to aiding the growth and development of the esports scene in South Africa. Many of our exciting gaming brands have returned as keysponsors for the Syntech Masters. These include big names like Crucial, Ballistix, Redragon and Antec. They'll also be joined by T-Dagger, a relatively new gaming peripheral brand in the South African market. The Syntech Masters is, at its heart, about empowering local gamers and providing a platform that allows them to perform to the best of their abilities."
Syntech Masters Breakdown
The Syntech Masters will cater to two titles, Counter-Strike: Global Offensive and Dota 2, with over R150,000 in cash and prizes split across the two titles. Each title will be split into two divisions:
Open Division – The Open Division, with its focus on uplifting newer teams, is designed for the less experienced squads to get in practice and build their knowledge against other local sides, all while fighting it out for over R60,000 in awesome hardware prizes.
Premier Division – This is the professional league where players will be fighting for spots to a uniquely-styled finals LAN event that features R90,000 in cash prizes across both titles.
The Divisions will be decided by a preliminary qualifier, and will be followed by a group stage shortly thereafter. Once the group stage has concluded, the top four teams from each title will go through to the LAN event, set to take place in and around the Mettlestate Studio.
"The Summit" Style LAN final will see the Mettlestate couch as it has never seen before, with the top local pro players taking a seat and casting the matches as they happen. This rarely-seen player insight always provides unique views, opinions and ways of thinking about the game, all with a bit of banter along the way.
Sign-ups will be done through the Mettlestate website, and CS:GO players will also need to be a part of the Mettlestate ESEA Club in order to take part.
With awesome hardware and prizes up for grabs, a LAN final and even more on the cards, there is no reason not get involved. So grab your friends and enter your team to experience a truly unique Syntech Masters esports experience!
For more information, please visit: www.syntech.co.za. Alternatively, you can find Syntech on Facebook, Twitter, Instagram, LinkedIn, and YouTube.
About Syntech
Syntech sources industry-leading technology products from around the world and distributes them throughout sub-Saharan Africa. The company caters for several industries and operates in multiple vertical markets, with a particular focus on providing value added service and support to:
Mass retail
Niche retail
Online retail
Managed service providers
Security and surveillance
Apple resellers
Syntech delivers thousands of products around sub-Saharan Africa daily and provides localised warranty support on all its brands. The business offers a wide range of technical services, which include memory and component upgrades and the diagnosing of hardware problems. The business creates markets for new tech innovation products, which means it's constantly at the forefront of cutting-edge technology. For more information, please visit: www.syntech.co.za
Like esports?
Check out esports central
Last Updated: April 24, 2019