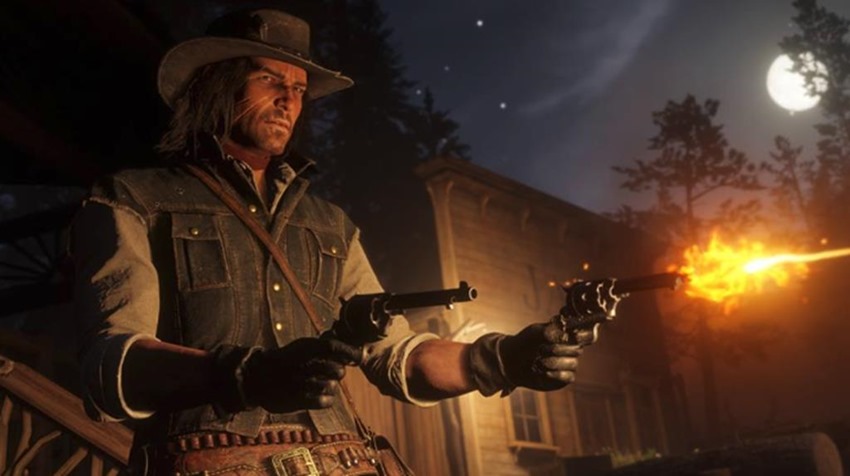 Listen, I might be late to the party but I've heard rumblings from my sauces that Rockstar Games has a new title out later this year. And get this: It's a cowboy game. Also, I've heard rumours about a Nintendo Game-Square and the PlayStation 3 having a controller that was designed by Captain Boomerang. Breaking news, we gots plenty of it.
What we also have is the actual meat of this story, in the form of 19 brand spankin' new screenshots from Rockstar Games showing off their hoedown sandbox, collected from the Rockstar website, Facebook, Twitter and Instagram. Take a look below, ya varmints:
Looking good! There's clearly been a bump up from the technology used to create Red Dead Redemption's iconic sandbox, an eight-year difference seen in the more detailed faces, better lighting effects and moodier environments on display here. I'm especially fond of that new wolf tech, which I'm certain will come into play when the furry bastards swarm you and bite your face off.
Ah, the ol' west. Not long to go now until Rockstar's latest chapter arrives in October, as the prequel-sequel focuses on Arthur Morgan as he finds himself torn between his loyalties to the gang who raised him and his own ideals that he developed in a world that was quickly growing beyond the lawless days of the frontier. That's the story that I'm interested in playing, that 1899 tale of love, revenge and the last of the outlaws who shaped American history for better and worse.
In case you missed, here's the latest trailer that debuted last week:
Here's the big question: Can you still tie a victim to train tracks and earn a gruesome achievement for watching them get run over by several tons of steel and steam? As I sit here twirling my mustache and laughing maniacally, I say "I certainly hope so."
I certainly hope so.
Last Updated: May 7, 2018