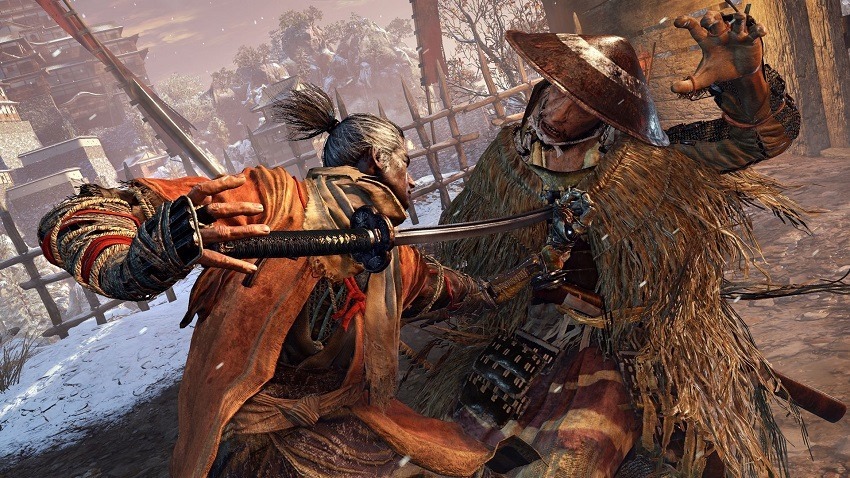 With Sekiro: Shadow Die Twice, From Software is clearly trying something new. They're free from the Dark Souls sequels and the style of gameplay that helped engineer Bloodborne, going for a more action-orientated title within a mystical Japanese setting. That might seem like a red flag for the fervent fans they've garnered over the years, but it shouldn't be. Because with a whole ten minutes of gameplay, it's clear that From Software isn't reinventing everything about their style of games to push forward with this new IP. Sekiro might not be Dark Souls, but it's certainly got enough DNA to feel familiar.
There are certain things about the way characters move and attack that is distinct From Software like in Sekiro. The slow, impactful combat is incredibly telling. You might not have a shield (at least in this demo), but combat is measured and careful, with a big emphasis on blocks and parries as you dodge and skip around your opponent. I admire the attention Sekiro pays to real katana sword arts, with each clashing of steel resonating throughout the environment and coming down with a satisfying knockback to keep the pace brisk. Combat is fast, but you'll not just be hacking away on an attack button to win.
But then there are entirely new elements too. Sekiro's protagonist features a prosthetic arm that can be transformed into both a utility and weapon. In combat it can be used as a thundering glaive, while also being used as a grappling hook to fling yourself around the battlefield or reach incredibly high areas. Sekiro also seems to have a strong emphasis on stealth, with the standard "tall grass" giving you some cover from enemies before you pounce to slash their throats without a care in the world.
Form Software's traditionally strange and grotesque enemy designed are well measured within this new setting, but don't expect to just face normal humanoids either. The mystical elements permeate deep into each of their designs, which is pretty evident from the large bruiser in the early stages of the gameplay. There's probably loads more Sekiro is keeping hidden, and I'm excited to explore it fully.
Sekiro: Shadows Die Twice is out in March next year.
Last Updated: August 23, 2018