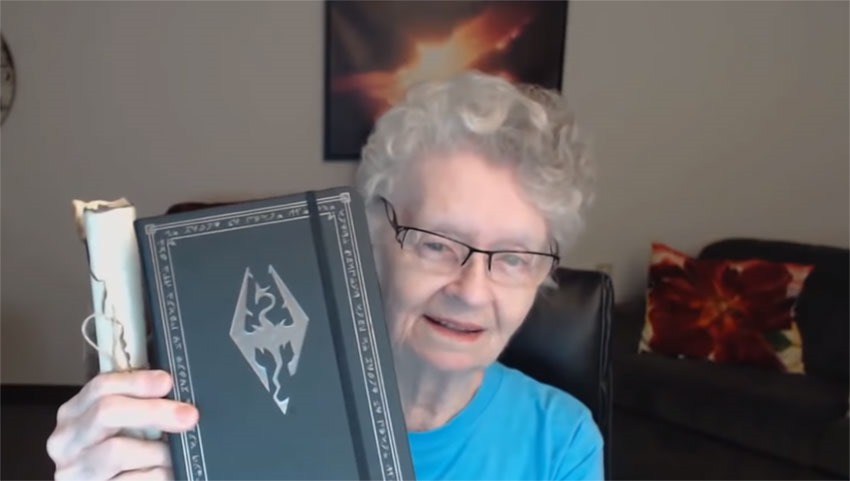 Everybody loves their grandmother. She's the one influence on your life that you can always depend on, when it comes to warmth, wisdom and telling you that you've got far too thin here eat an entire cake that is fresh out of the oven. Now as much as I love my dear nana, one thing is for certain: She's not cool. I'm sorry gran, but it's true.
Skyrim Grandma on the other hand, is very much the benchmark for being venerable and in vogue. Known as Shirley Curry to her friends and family, Skyrim Grandma is a beloved fixture on YouTube as she regularly showcases her adventures in Bethesda's Nordic wonderland of dragon-shouting and Daedric ass-whuppin'.
A beloved part of the Skyrim community, one of Curry's recent comments resulted in fans and friends alike banding together to immortalise the popular YouTuber for all eternity in the next Elder Scrolls game after she expressed doubt as to whether or not she'd even be able to dedicate time to the sequel. Via Eurogamer:
Well, I guess that puts the nail in my coffin, literally!!! When Skyrim 6 comes out I'll be 88!! So I probably won't get to play it, so i'm going to quite dreaming for it!!!
After reddit grabbed the comment, a petition was set up to earn Curry a spot in The Elder Scrolls VI. With almost 50 000 signatures, Bethesda got wind of the rally and decided to fly Curry down to the studio. The end result? Skyrim grandma is going to be an NPC in the next Elder Scrolls game. In a 25th anniversary video for the franchise, Curry can be seen being digitally scanned so that her likeness can live on in The Elder Scrolls VI.
"This means a lot to me, because I would be extremely happy to know that somebody else was playing with my character in a future Elder Scrolls game," Curry said in the video. It's not the first time that Bethesda has managed to do this either, as way back in 2011 one Erik West also had his likeness added to Skyrim, creating the character of Erik the Slayer. West would sadly pass away after his visit to Bethesda, due to his terminal battle with Cancer.
Still, it's lovely to see one of gaming's warmest personalities treated like royalty. Here's hoping that Skyrim Grandma can be around long enough to see the next chapter in the long-running series arrive, before it's too late.
Last Updated: April 1, 2019