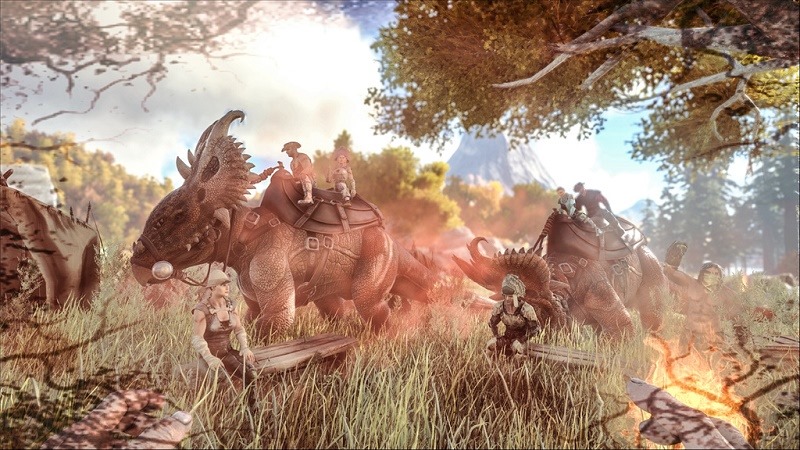 Thanksgiving, as the name implies, is a day all about giving thanks. In the States, people normally celebrate by getting together with family and stuffing their faces with turkey.
Studio Wildcard? They're commemorating the holiday too, by adding a whole lot of new content to ARK: Survival Evolved compliments of Patch 252:
Thanksgiving is upon us and today, Patch 252 brings a feast of new content to ARK: Survival Evolved! New friends will be making an appearance as four new creatures will become available to discover and tame, including the slimy Achatina, nocturnal hunter Megalosaurus, harvesting-specialist Moschops and the pheromone-spewing Pachyrhinosaurus!
What's Thanksgiving without turkeys though? Don't worry, Studio Wildcard haven't forgotten to include those feathered friends. They're a little um, different however:
ARK's biomes are now host to savage, blood-thirsty mutant Super Turkeys. Players can hunt these brutal birds of prey, harvesting their wishbones and using them to craft an event-exclusive ornamental "Chieftain Headdress", or use their poultry-powered gains to summon the mighty DodoRex to do their bidding. This year's Turkey Trial will feature something all new – an event-specific "emote" for players to unlock, and will take place on all official ARK maps including Scorched Earth, The Center, and The Island!
But wait, there's more! Turkeys and new creatures aside, Patch 252 also contains a whole lot of other nifty bits and bobs:
ARK: Turkey Trial 2! New challenge and cosmetics! Earnable Emote! (this system also enables Mods to add more Emotes to the game!)
New Mechanic: Breeding Phase 3 with Random Mutations and Family Trees.
VFX Indicators for Whistle Commands: Move To, Attack, and Group-Selected Units.
Explorer Notes: Two new mythos Explorer Notes for each character
A huge increase in server performance
Whistle Ordering Groups! Create groups by class, or specific-dino!
New Whistle Type: "Move To", Attack, and Group-Selected Units.
Extra Option to "stream" in "Far" map sublevels, for large memory and performance gains (but reduced visual quality & draw distance).
If you've ever wanted to play ARK: Survival Evolved, now is probably a good time to grab a copy. Thanks to the Steam Autumn Sale, the dino-riding simulator is going for 50% cheaper, at the low price of R159.50.
Last Updated: November 25, 2016