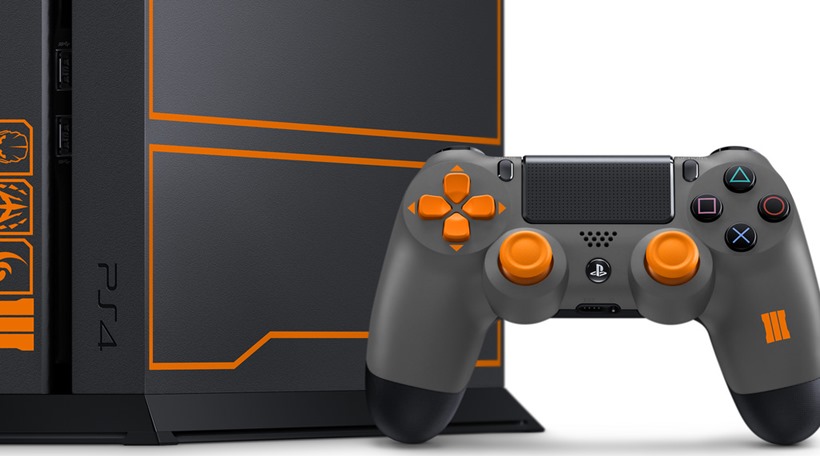 As a console, the PlayStation 4 is easily the sexiest looking piece of hardware on shelves today. While the Xbox One has a charm of its own if you're into collecting gigantic murder weapons, the PS4 just has a sleek and edgy design that pops for me.
It's also the kind of console that lends itself perfectly to customisation. I'm still massively jealous over the fact that Matty has the Metal Gear Solid V PS4, and even the Star Wars Battlefront version of that device is slowly growing on me.
The Call of Duty: Black Ops 3 PS4 however, isn't. Here's what it looks like.
The Call of Duty PS4 very much looks like something that Helen Keller would design, if she lived in the grid of Tron. The controller itself doesn't sport a better use of colour, as the graphic designer who came up with it clearly forgot that grey and orange aren't complimentary colours.
It's just…not pretty. I get that mega Call of Duty fans will want to show their love off with that hideous orange piping and the weird placement of game symbols, but it just doesn't work for me. Hell, take a look at the Sunset Overdrive Xbox One console.
For a game that was designed around garish and ostentatious ornamentation, the fact that that console is a simple shade of white, proves that less certainly is more.
On the plus side, this is a 1 terabyte console, so you'll have plenty of room and digital real estate. It'll cost around $449.99 in the US of A, and includes Black Ops 3. If it makes it down to us, I'm expecting a R5999 price tag on it, much like the MGS V PS4 console.
As ugly as the console is, it makes sense. Because only the kind of COD player who regularly gets off on enquiring about your mom's reproductive organs could find this attractive.
Last Updated: September 23, 2015