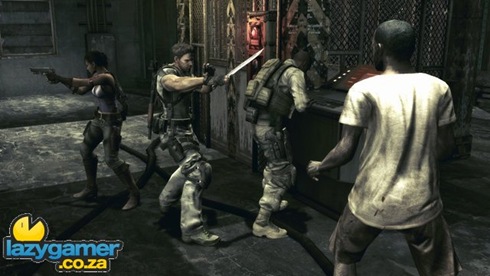 Yes if you hadn't noticed yet the racism claim against Resident Evil 5 is my latest obsession which also explains the lack of rants against installs recently so enjoy it while it lasts.
The latest entity to speak up about the racism claims in Resident Evil 5 would be the BBFC or for those of us who don't live in the UK that would be the British Board of Film Classification and the group responsible for putting those age restriction labels on all movies and games sold in the UK.
When speaking to MCVUK a spokesperson for the board had the following to say when quizzed about the now infamous balcony seen where a group of black males is dragging away a caucasian female
"In the version of the scene submitted to the BBFC there is only one man pulling the blonde woman in from the balcony, and I can't say the skimpiness of her dress impressed itself on me,"
He then goes on to state
"As the whole game is set in Africa it is hardly surprising that some of the characters are black, just like the fact that some of the characters in an earlier version were Spanish as the game was set in Spain."
"We do take racism very seriously, but in this case there is no issue around racism"
So there we have it, according to the BBFC there is no issue around racism in Resident Evil 5 and that is the first statement I have seen from a body which has no vested interest in this title either way.
We could always stir the pot by pointing out that a comment about racism from the country that invented colonialism isn't going to hold much water with the people claiming racism, Â but we wouldn't do that…Â 
Source: MCVUK
Last Updated: March 3, 2009