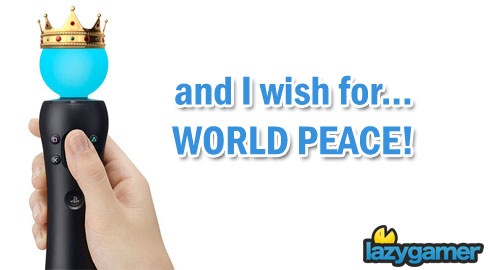 With the way console manufacturers are pushing motion control so hard, it's blatantly obvious that the future of video gaming rests upon flailing about like an idiot.
Thanks to an expert panel of judges at Gamescom, we can now declare the console wars over for good; Sony's Move trumped Kinect to win the show's best hardware accessory award. Of course, the panel was made up of Germans, known for some pretty edgy pornography – so maybe they just voted for something that seemed familiar.  Five other awards were dished out in various categories. Hit the jump for the rest of them.
The full list of six winners were:
Best of Gamescom: Gran Turismo 5
Best hardware accessory: PlayStation Move
Best console game: Gran Turismo 5
Best mobile/handheld game: Super Scribblenauts
Best online game: Guild Wars 2
Best PC game: Crysis 2
Best Family Entertainment: Kirby's Epic Yarn
Notice anything particular? Not a single 360 game won an award at Gamescom. Even Kinect and its games, which are directly developed for  – and marketed as – family gaming failed to snag the best family entertainment, that accolade instead going to the delightfully pink and fluffy Kirby's Epic Yarn. lans, our resident GT5 prophet will be glad to know that not only did his beloved racing sim win best console game, it secured best of Gamescom. Maybe that rabid enthusiasm is warranted, eh?
Source : CVG
Last Updated: August 23, 2010