After a gruelling group stage, and saying goodbye to two teams, the Dota 2 International has reached the Main Event with a few teams already looking strong ahead of the competition. Teams like Liquid, LGD.Forever Young, Newbee and Evil Geniuses grabbing their rightful places in the upper bracket, favourites like OG and Secret will have to fight it out in the lower bracket. OG, who are multiple major champions, will have the toughest road ahead as no team has ever made it through the lower bracket and won the competition. My money is on a Liquid vs. LGD.Forever Young final, but this year's competition is arguably the toughest ever with a prize pool of over $23 million.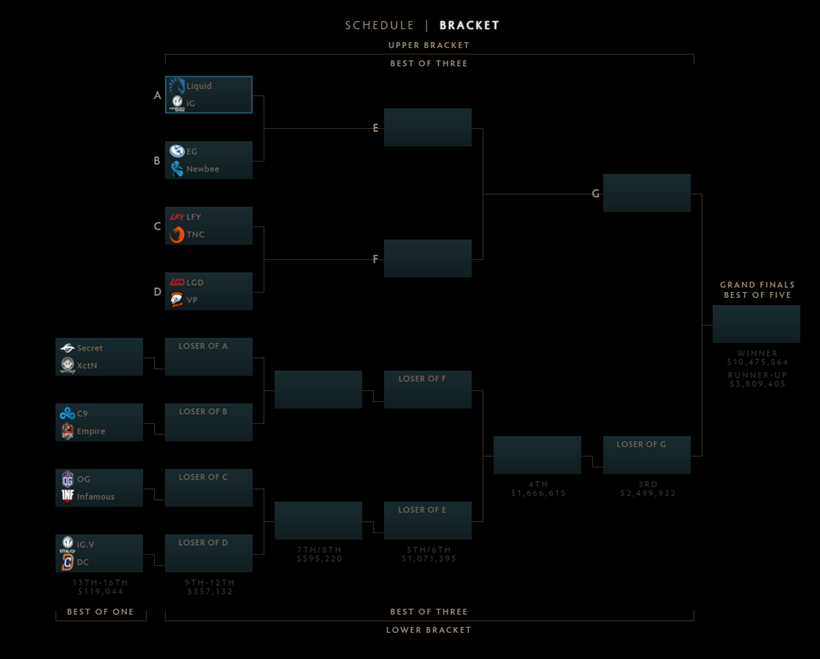 The main event schedule is not as SA friendly as we'd like, meaning most of us will only really be able to catch one best of three (or two). The first game starts at 18:00 and the last game of the day is at 04:00. Today we'll be treated to two upper bracket games and four lower bracket games, which is unfortunate because all those lower bracket games are best-of-one elimination matches which are probably going to be the best today has to offer. The hot matchup for today, in my opinion, is Evil Geniuses vs. Newbee.
Schedule:
Upper Bracket:
18:00 – Team Liquid vs. Invictus Gaming (BO3)
22:00 – Evil Geniuses vs. Newbee (BO3)
Lower Bracket
01:00 – Team Secret vs. Execration (BO1)
02:00 – Cloud9 vs. Team Empire (BO1)
03:00 – OG vs. Infamous (BO1)
04:00 – Invictus Gaming Vitality vs. DC (BO1)
I fear we might say goodbye to Cloud9 today, and it hurts to see my favourites OG in the lower bracket this early. Regardless, all the action will be taking place on the Dota 2 TI Twitch stream or on the in-game client. The main event is the big one, so this is not to be missed.
Like esports?
Check out esports central
Last Updated: August 7, 2017