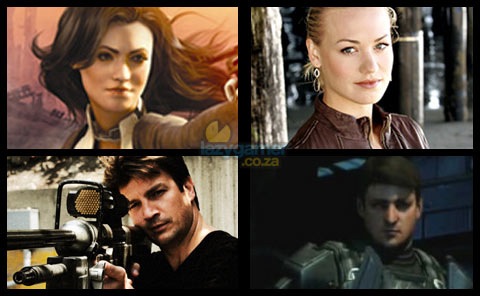 Just yesterday I was walking past a Mass Effect 2 poster in a shopping mall and something happened to catch my eye.
Up until this point I hadn't noticed it, but on closer inspection I realised that one of the new characters in Mass Effect 2 looked incredibly familiar. Anyone who watches the TV series "Chuck" will know that the lady on the ME2 cover is in fact, Yvonne Strahovski, the actress who plays Agent Sarah Walker on the show.
Now, some of you may have missed it in December, and thanks to the end of year rush I know that we did, but the cast of the game was announced by Bioware and in it is not only Chuck's Strahovski, but Adam Baldwin as well.
Are actors going to start being themselves more often in videogames? Is this the future of entertainment?
This is something that has really intrigued me in the past. In case you missed it, I have written something about this in the past titled Could Hollywood Actors Become Videogame Stars.
Slowly but surely I am seeing this sort of thing creep in. Not only is the character in Mass Effect based directly on the looks of an actress, but has the same person voicing her as well, which basically means that this is no normal character, it is the actress's portrayal of her.
The same can be said for Kristen Bell in the first Assassin's Creed as well as Nathan Fillion's role in Halo: ODST. The actors voice the characters, have the characters modeled on their looks and in many cases even do all the motion capture for their animations as well.
I think with the success of the videogame industry and the way this it is moving forward, we may see actors likenesses becoming more common place to the point that they may one day be advertised on the covers just like they are in movies.
I'm interested to know what you guys think. Is this a possible way forward for actors and videogames? Hit us up with some comments.
Last Updated: January 14, 2010