Three years after Sierra Online Entertainment released Roberta William's seminal computer adventure title, King's Quest, onto the PC and Macintosh in 1983, they were about to have another smash hit on their hands with the first in what would become another long running adventure game series, Space Quest.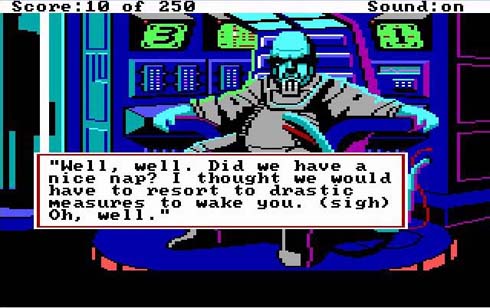 Space Quest tells the story of Roger Wilco, full-time intergalactic janitor and part-time saviour of the universe, as he haphazardly bungles his way through one adventure after another. The funny thing is that no matter how many times he saves the universe, he always ends up as a janitor again. You'd think that the gratitude of billions upon billions of sentient races in the galaxy would set him up for life – but no, he always finds himself, mop in hand, cleaning floors and getting pushed around by everyone.
Through course of the six Space Quest games that were released over the next decade, Roger Wilco manages to halt the attack of hostile alien race; foil the plot of a madman who plans to populate the galaxy with an army of robotic life insurance salesmen; meet his son in the future; become the captain of his own starship (a garbage scow); and even rescues the creators of the Space Quest series from their captors, the evil Scumsoft Corporation, delivering them safely to Sierra Entertainment's HQ in our universe. The hilarious situations players find themselves in and the witty writing in the series made Space Quest an instant hit. Roger Wilco's constant, sympathy-inducing predicaments saw him steadily rise in popularity to become one of the most endearing videogame characters of all time, with a massive fan-base that endures to this day.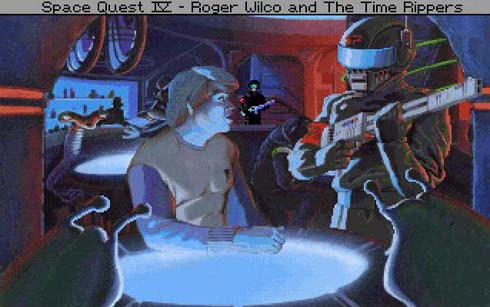 Like all other computer adventure games, the Space Quest series required players to explore beautifully drawn locations, finding items and clues that would help them solve puzzles in order to advance to the next part of the story. Up until Space Quest IV, this was done with a typing interface. Players would have to guide Roger Wilco around the screen with the cursor keys and enter commands like "open door", "take keycard", or "switch on dialect translator" while standing in the appropriate spot. From Space Quest IV onwards, the games adopted a more accessible mouse-driven interface, where players could click on things with a mouse cursor to interact with them.
In adventure games, it was the creativity of the stories and puzzles that determined the success of any given game, and Space Quest featured some of the best. Blowing up horrid creatures with cans of dehydrated water (we kid you not); buying fast food to get the special prizes; shrinking yourself down to a hundredth of your size to sabotage a mad scientists life support system; and even being turned into a fly, Cronenberg style, to determine the inner workings of a mechanical lock – this is just a small taste of what the Space Quest series has to offer.
Being DOS-based games, it would be incredibly difficult to get the games to work on modern PCs, even if you did still have your original floppy or stiffy disks and some means to read them. Luckily, if you're an old time fan wanting to relive the old memories, or a newcomer who wants to see what the old-timers are raving about, you can get the entire series on one CD as part of the Sierra Classic Collection. This collection brings the entire series, from Space Quest 1: The Sarien Encounter through to Space Quest 6: The Spinal Frontier, all to the Windows XP platform and is available at almost every good computer store across the country, and ranges in price from about R99 to R120.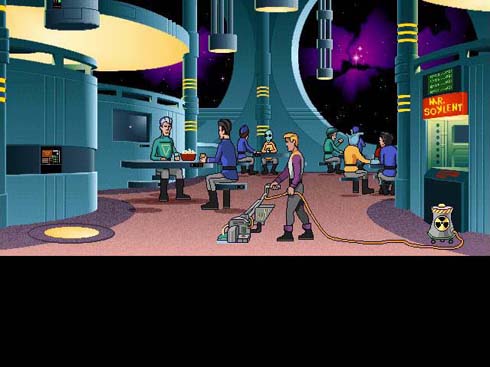 With its appealing and cartoony designs, hilarious stories, and memorable characters and scenarios, the Space Quest series stands proud as one most iconic and well-loved franchises in gaming history. If you haven't ever played Space Quest, you really should give this a try – you don't know what you're missing.
Last Updated: March 16, 2009