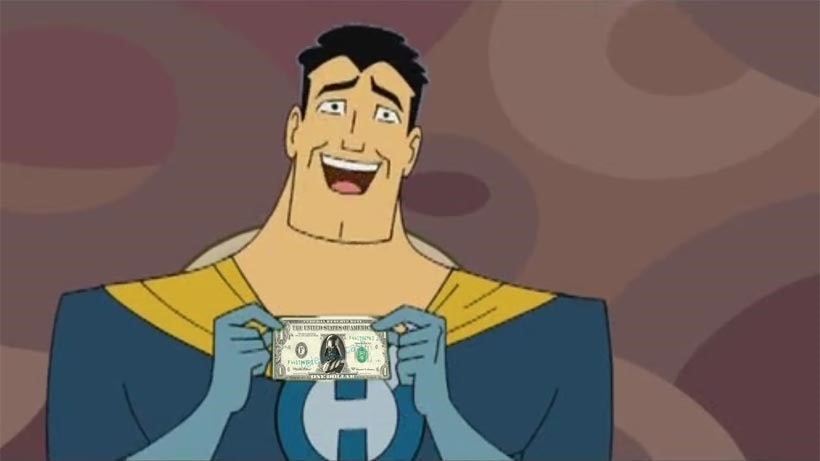 60 bucks is enough! 60 bucks is enough! Or is it? Can your puny alliance of steadfast one-time purchasers stand up against the might of the Galactic Season Pass Empire? Ha! Now watch as I crush this insurrection, once and for all! Bear witness, the this fully armed and operational season pass!
Meanwhile, outside of the EA investors meeting:
Season passes are easily the most divisive promises out there. Some folks fall for them, some spurn them and others decide to wait out a few months of FOMO and see what they have to offer after they've been on the marketplace for a while. And it's not enough to just have extra content lined up after launch.
Said content has to have a hook if you want people to blindly throw down cash for it. With Star Wars: Battlefront, that hook comes in the form of early access to each expansion pack, to the tune of two weeks. Which is a very clever way to quickly beta-test content. Anyway, here's what the season pass will be offering:
Over 20 new pieces of galactic tech including weapons, vehicles, and Star Cards for both Rebels and Imperials
Four more heroes and villains for you to fight as or against
16 additional multiplayer maps featuring new locations
Four exciting new game modes
Two-week early access to each expansion pack
Exclusive "Shoot First" emote
Here's the stinger: That season pass is going to cost $50. That brings the total cost for the dedicated Star Wars fan, to $110 then. And that's absolutely ridiculous. EA Access players aren't happy with the apparent light smattering of content that is available in the base game, and selling extra game modes in a multiplayer-only title feels like an Imperial slap in the face.
I don't mind publishers charging cash for silly cosmetic items, but this is ridiculous. It also splinters the community, between the haves and have-nots. And that's not a sound strategy when you're attempting to keep your new big budget game alive beyond week one.
Last Updated: November 16, 2015