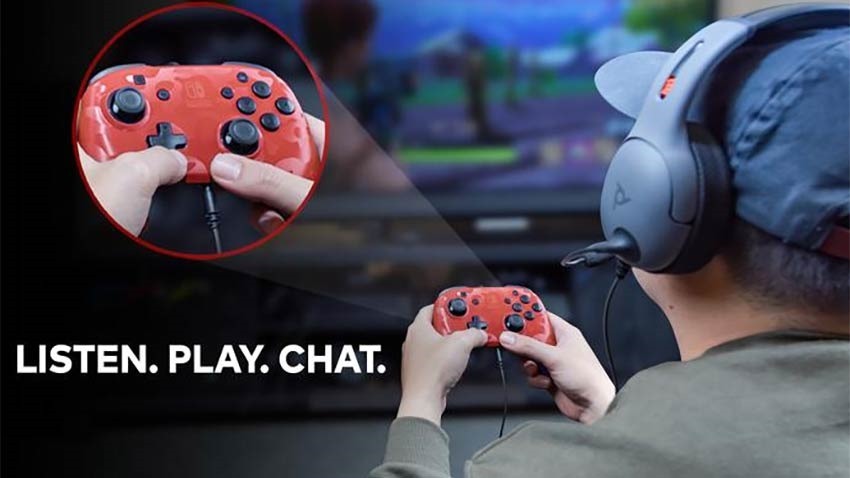 I love the Nintendo Switch, but there are some very silly design decisions that it make it less amazing than it should be. One of the most annoying, for me, is the lack of 3.5mm output on its controllers. I get it; the way that the Joy-Cons work, it would be unwieldy, though it wouldn't have been impossible to implement one on the Joy Con Grip. More inexcusable is the lack of such an output on the Switch Pro Controller.
It's largely because Nintendo had hoped that you'd run your chat through it's silly online service on your phone, using some sort of nest of cables and contraptions to get chat and game audio working at the same time. It's infuriating, because the system does actually allow for chat and audio through the system's own 3.5mm port. Playing a multiplayer game like Fortnite, for example, works just fine in handheld mode with a headset. Now, finally, there's going to be a Switch Pro controller with a headset jack. And like many of these things that fix Nintendo mistakes, it's done by a third party. The third party in question here is PDP, who make a range of accessories and peripherals for all systems.
Their new Faceoff Deluxe+ Audio Wired Controller they say is "the best Nintendo Switch controller for serious gamers." In addition to simple audio and chat, it includes two extra programmable buttons and allows players to adjust audio on the fly from the controller itself.
Says John Moore, SVP of Marketing at PDP:
"When we set out to make the new Faceoff Deluxe+ Audio into the ultimate third-party controller for Nintendo Switch we focused on elite performance and customisation, and enabling more opportunities for in-game chat. We worked with the industry leaders at Vivox to offer the best chat experience possible and now we're helping them get the word out to developers."
Hallelujah. It'll be coming in May.
Last Updated: April 4, 2019