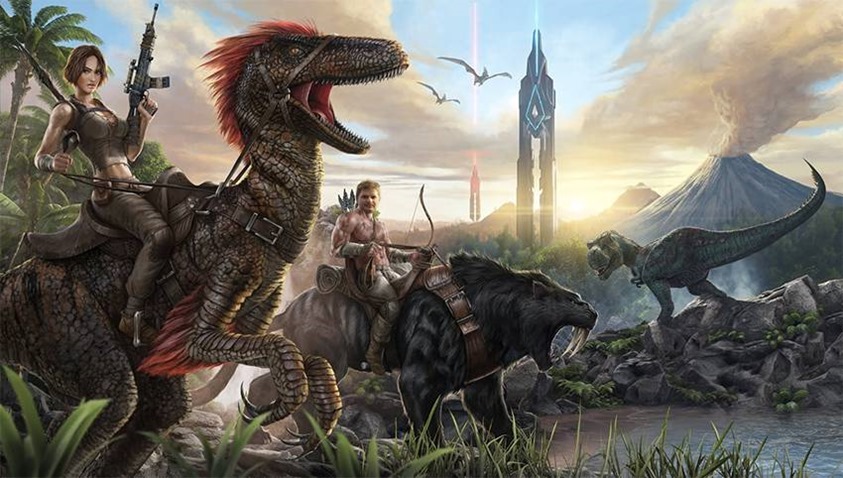 Unlike many survival-based games, Ark: survival Evolved is actually out – and is now available on PC, PS4 and Xbox One in both retail and digital guises. As you may recall, there was a bit of a storm in a teacup about the game's shift to full-priced retail. The game's price doubled overnight, so that the digital versions could hit parity with retail.
Speaking to Eurogamer, Studio Wildcard's Jeremy Stieglitz explained how that all happened. The road to Ark's release hasn't been a particularly smooth one, with backlash over the price hike compounded by earlier vitriol regarding the game's paid DLC before the game was even out of Early Access.
"That one is kind of a planning blindspot," Stieglitz admitted. "We didn't realise in order to get to retail on store shelves they would require price parity with digital, not on launch day, but prior to launch day. That was… 'well we need it now because we have to do a pre-order campaign'. We were faced with a very stark decision at that point."
The decision was over whether to go ahead with the retail plans. Seeing as you can pick the game up in stores right now, it's obvious which route they went. Still, they think they have a game that's worth that new price point.
"We tried to communicate it in advance as fast as we could, but we didn't have as much lead time as we would have liked. We only found out a few weeks before it had to happen. You know, ultimately, it sucked. We do think now, as we get to release, we absolutely feel there is a great $60 game there. The value is there."
They've also learned a hard lesson regarding the Scorched Earth DLC – with a warning to other Early Access developers to learn from their mistakes.
"We didn't anticipate how it would be viewed. In hindsight, we would never do that again. I would never do that in Early Access again and I wouldn't recommend any developer do it either. I won't mince words with that. I don't think from a business standpoint it was worth it. I do think from a technical standpoint, it was, you might say, necessary."
Ark is out on PC, PS4 and Xbox One. It's a heck of a lot of fun if you can soldier your way through the initial hours, which are a bit of a grind. Riding on dinosaurs is always cool.
Last Updated: September 1, 2017