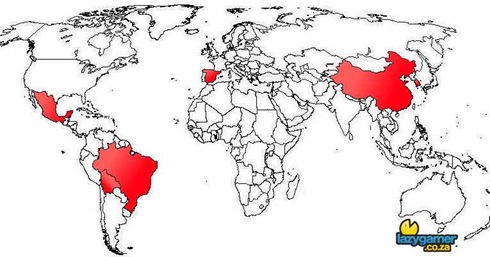 Nintendo have come out and asked the American Trade Representative to help them in combating the rampant piracy on their hugely popular DS and Wii systems.
While this is a normal annual process for them, this year they have decided to name and shame certain countries where piracy has become rampant.
Some of them are expected and some I have to say took me by surprise…
The countries of this world which should be utterly ashamed of themselves for not doing more to combat piracy are
China – the manufacturing hub of virtually all the mod chips in the world.
Republic of Korea – The worlds most connected country proves that the Internet is to blame for a lot of piracy at the moment. But really they should be setting a better example
Spain – Who have no excuse, they are part of the EU and as such benefit from the huge buying power and good prices
Brazil – Who are now notorious for virtually making no effort to curb Brazil
Paraguay – Paraguay are apparently making an effort to curb rampant piracy but for now they still have a long way to go
Mexico – The Mexican government are being blamed for not taking piracy seriously but when you hear that over 1000 people have already been killed this year alone due to the drug problem you can see why piracy is low on the list of issues.
Source: Nintendo
Last Updated: February 26, 2009