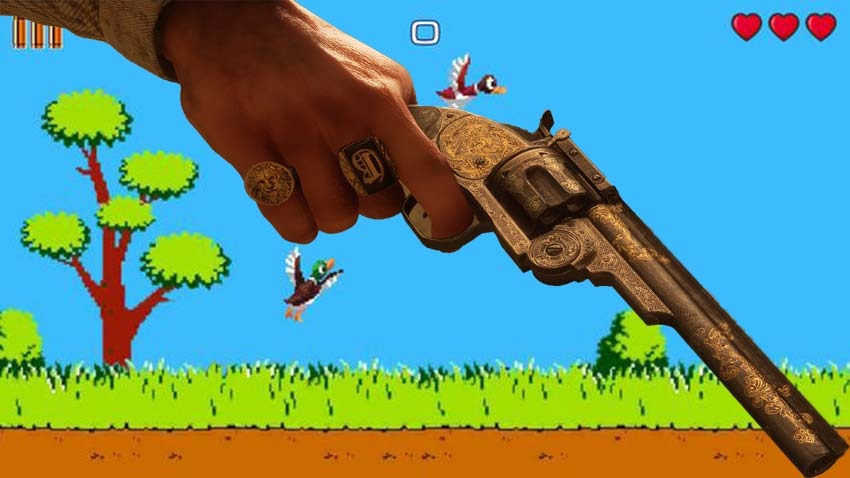 Ah, the great outdoors of the American old west. Teeming with life, filled with all manner of creatures which have managed to exist for thousands of years in inhospitable areas of the wilderness of that lawless frontier. Not only have America's apex predators and gentle herbivores survived, they've flourished and established generations of breeding and bloodlines that pre-date man's arrival on the continent by a good couple of millennia. Truly majestic, to behold.
Right, enough of the David Attenboroughing, let's kill the bastards and get some meat on the table. Ha! That bison went down too easy! King of the jungle my ass.
In Red Dead Redemption 2, players are going to need to put their love of animals aside if they want to survive in the vast sandbox that Rockstar has built. Arthur Morgan and his crew need to forage for meat, pelts and other useful bits from the freshly-killed bodies of America's wild game, with Rockstar confirming that there happens to be around 200 distinct species to track down:
The diverse habitats and climates of Red Dead Redemption 2 are home to around 200 species of animals, birds and fish, all of which behave and respond to their environment in a unique way. pic.twitter.com/asAB3yTRJB

— Rockstar Games (@RockstarGames) September 24, 2018
According to VG247's preview of Red Dead Redemption 2, hunting is essential stuff. Within the ecosystem set up, players can see predators hunting down prey at various times of the day, while actually engaging in some catch and release from life activities of your own can be a gruesome hobby. You'll still be able to skin animals for their pelts, but doing so now initiates a more visceral animation per creature as their flesh gets rolled and bundled up.
Taking the realism a step further, larger animals will provide several pelts and plenty of meat, but you'll need to get that flesh stored and preserved if you want to avoid having a steak that has been seasoned with food poisoning. You're also going to want to make certain that you don't drip blood on your horse, as doing so will attract predators as you trek back to town.
Summed up, it appears as if Red Dead Redemption 2 is a game of many many systems that players will need to learn and master. Whether this makes for a game that's slower and forces players to appreciate the product in front of them at a more languid pace or a series of annoying pains in the asses as the sheer weight of all these survival trees collapses in on them, remains to be seen.
Not long to go now, until October 26 moseys on around…I reckon.
Last Updated: September 25, 2018