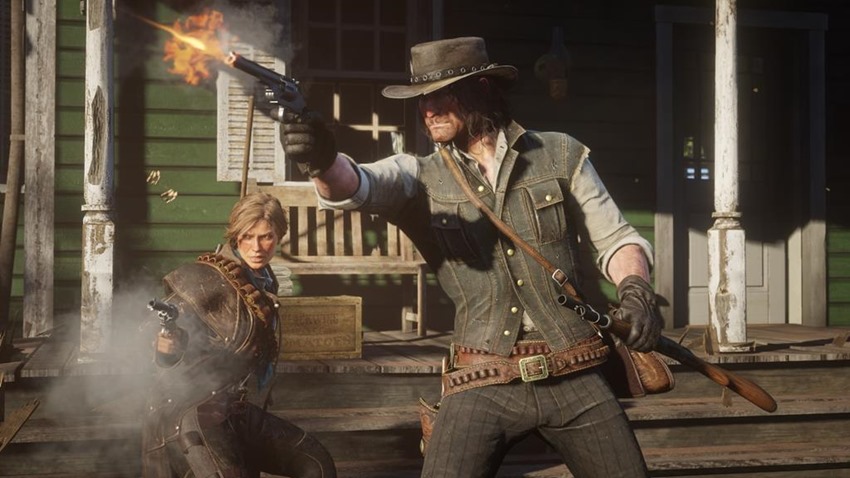 What kind of game is Red Dead Redemption 2?
The rootin' tootin' shootin' kind of game! In its base form, Red Dead Redemption 2 is an open-world sandbox set in the waning days of the Wild West as civilisation began creeping closer to the American frontier. Giving players a choice to experience the land as an outlaw or as an enforcer of the law outside of the main story, Red Dead Redemption 2 is the cowboy experience distilled to the best tropes of the genre: Horseback riding, high noon shootouts and exploration of a land that didn't want to be tamed.
Much like the 2010 game, expect a chance to protect the population or rob them blind. The Honour system will impact on your player reputation, while more nefarious deeds will see the long arm of the law descend on your Yosemite Sam rampage and putting a bounty on your head.
Who am I saddling up as this time in Red Dead Redemption 2?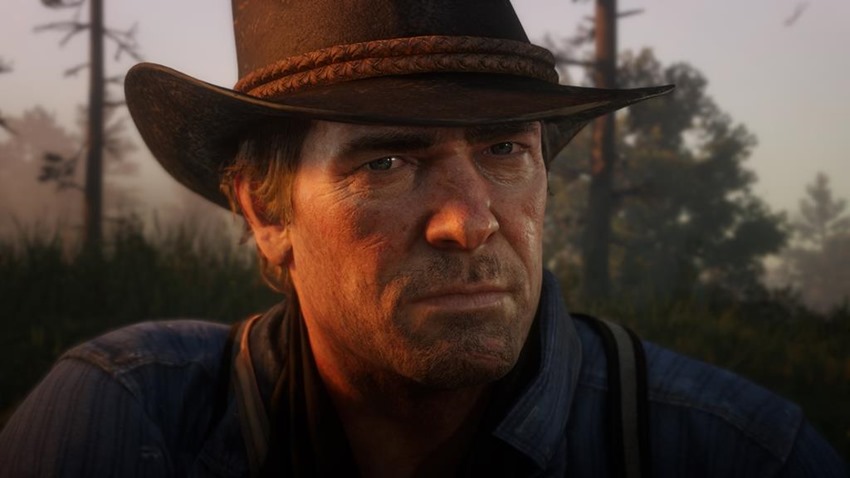 John Marston may be a tad bit too green for players to take control of again, as players will step into the boots of Arthur Morgan instead. A member of the gang run by Dutch van der Linde, Morgan is a brand new face in the series and the fella that you've seen the most of in trailers so far. Also seen in the trailers, are Redemption's Bill Williamson, Javier Escuella and new faces such as Sadie Adler, Lenny, Karen, Micah Bell, Sean McGuire and Pearson.
When does Red Dead Redemption 2 take place?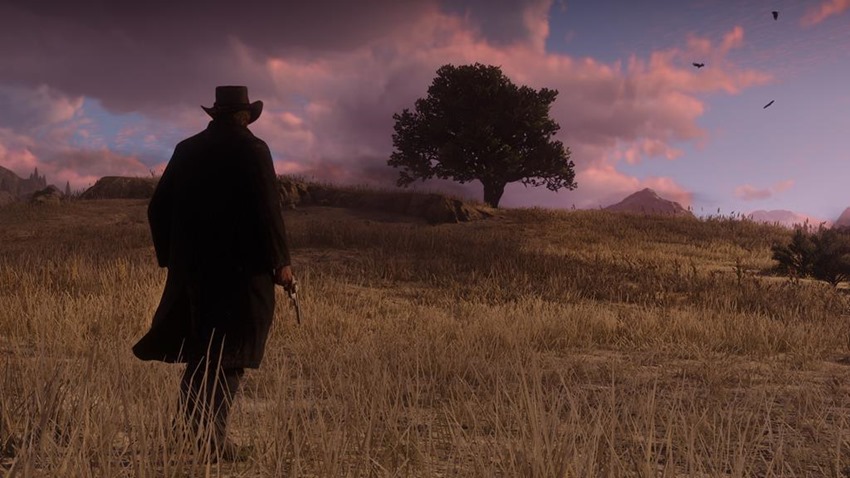 Strangely, Red Dead Redemption 2 is a sequel to the 2010 smash-hit that also happens to be a prequel that was set in 1911 and had players saddle up as John Marston. Red Dead Redemption 2 kicks off in 1899, and gives players control of Dutch's Gang. Here's the official synopsis from Rockstar Games:
America, 1899.

The end of the wild west era has begun as lawmen hunt down the last remaining outlaw gangs. Those who will not surrender or succumb are killed.

After a robbery goes badly wrong in the western town of Blackwater, Arthur Morgan and the Van der Linde gang are forced to flee. With federal agents and the best bounty hunters in the nation massing on their heels, the gang must rob, steal and fight their way across the rugged heartland of America in order to survive. As deepening internal divisions threaten to tear the gang apart, Arthur must make a choice between his own ideals and loyalty to the gang who raised him.
Where Red Dead Redemption began with hints of a catastrophic series of events that saw Marston charged with hunting down his old gang, is where Red Dead Redemption 2 will unveil those threads and the secret past of the series. What really happened at Blackwater? How did that vile town become the home of the deadliest showdown in history that saw dozens of civilians and lawmen killed?
That's one mystery that player can finally experience first-hand, amongst many other story threads that have been hinted at over the years.
Will Red Dead Redemption have a big map to explore?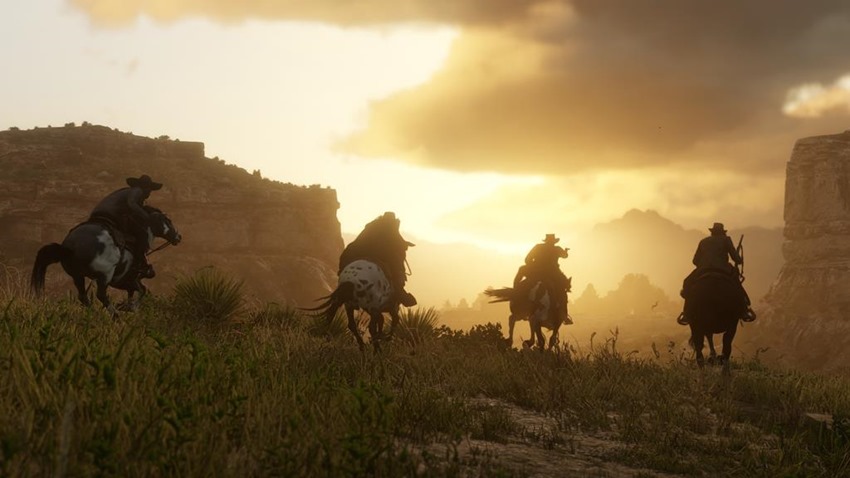 Considering how stupidly massive the original 2010 map was, it's accurate to say "probably". Rockstar Games haven't revealed details on the new map yet, but what is known is that the small town of Blackwater will feature prominently, with sources claiming that the rest of Red Dead Redemption 2 will be set in the Northeast. Expect a lot of varied terrain then, that encompasses wild prairie deserts, tall mountains, forests and a trip down to the bayou.
Can I kidnap somebody, tie them up, leave them on train tracks and earn an accomplishment for their gory demise when several tons of locomotive fury runs them over?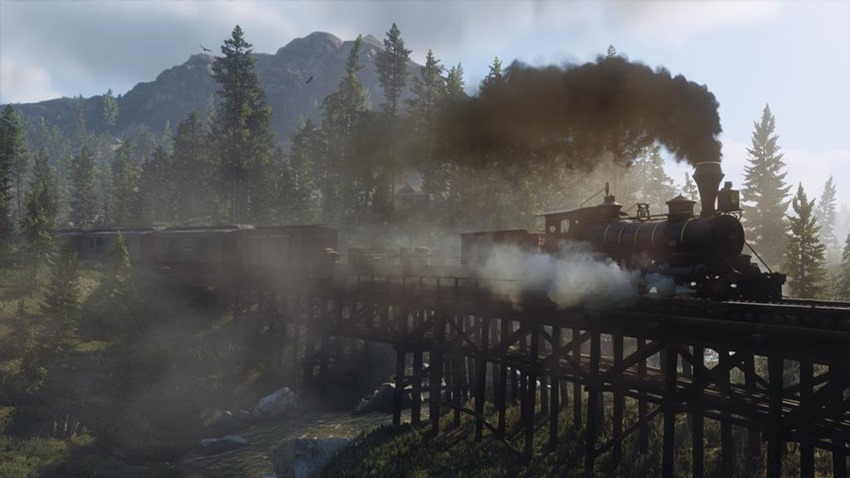 God, I hope so.
Will Red Dead Redemption 2 have multiplayer?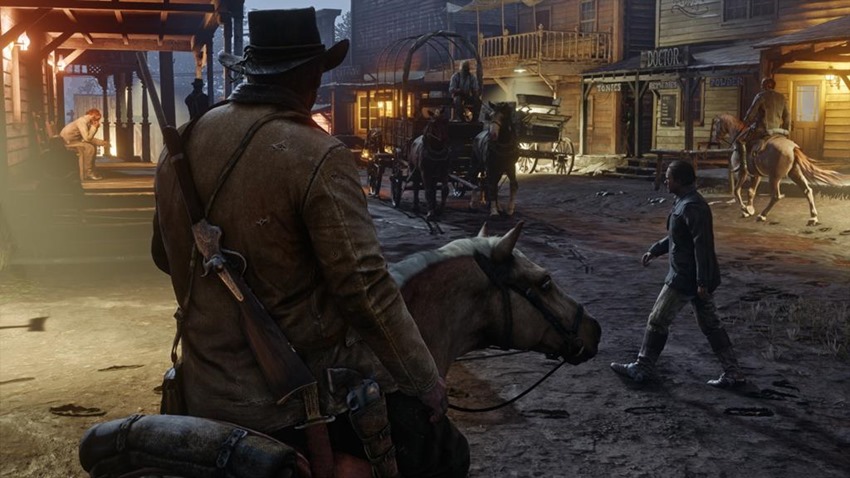 You bet! Rockstar Games introduced multiplayer features to the 2010 Red Dead game, and still make a ton of cash off of their other hot property, Grand Theft Auto Online. While Rockstar Games have yet to actually reveal what Red Dead Redemption Online will look like and encompass, the safe bet here is that this mode will no doubt take a few ideas from GTA Online as recurrent consumer spending is something that parent company 2K Games happens to be big on right now.
Still, if that means more regular events and constant updates that players can take advantage of between their showdowns and online exploration, then I'm game for that.
When does Red Dead Redemption 2 release?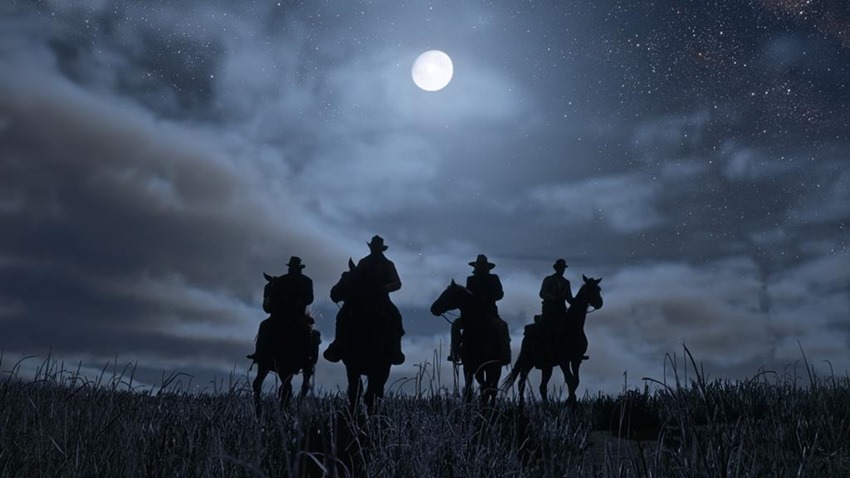 October 26 for Xbox One and PC. Rockstar Games says that this is a firm release date, no more delays.
Will Red Dead Redemption 2 release on PC?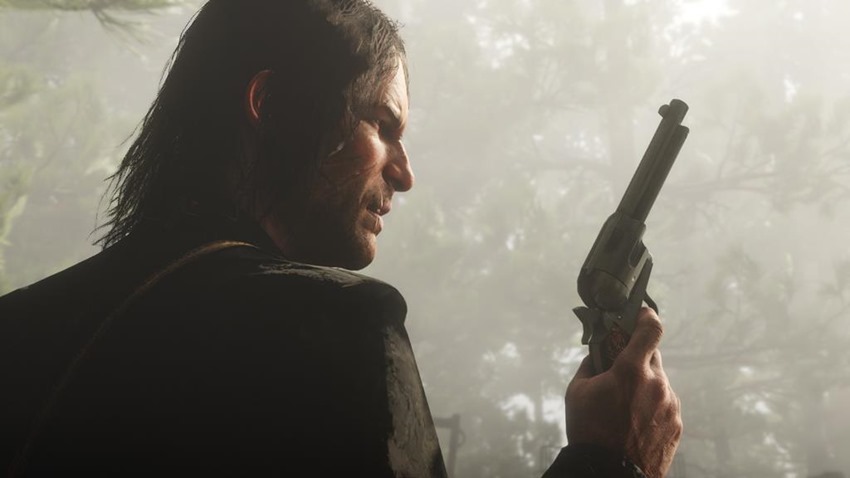 No idea to be honest, as Rockstar has remained dead quiet on this front. Red Dead Redemption is still a game that is absent from that platform, although with an enhanced edition of GTA V taking over a year and a half to release on PC after launch, the precedent to eventually bring Red Dead Redemption 2 to PC is there.
Any fancy special editions?
Yup! Three in fact. Here's a breakdown of their contents:
Special Edition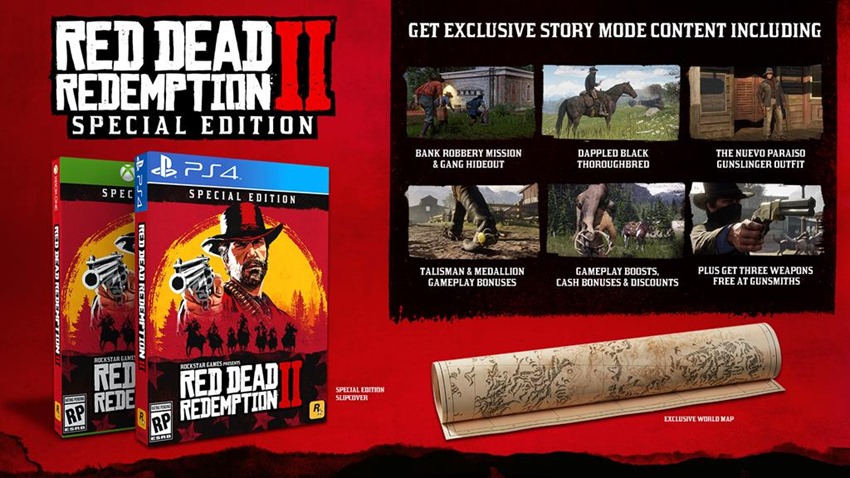 Game Disc
Special Edition Slipcover
Exclusive World Map
Bank Robber Mission and Gang Hideout
Dappled Black Thoroughbred
The Nuevo Paraiso Gunslinger Outfit
Talisman & Medallion Gameplay Bonuses
Gameplay Boosts, Cash Bonuses & Discounts
Plus Get Three Weapons Free at Gunsmiths
Ultimate Edition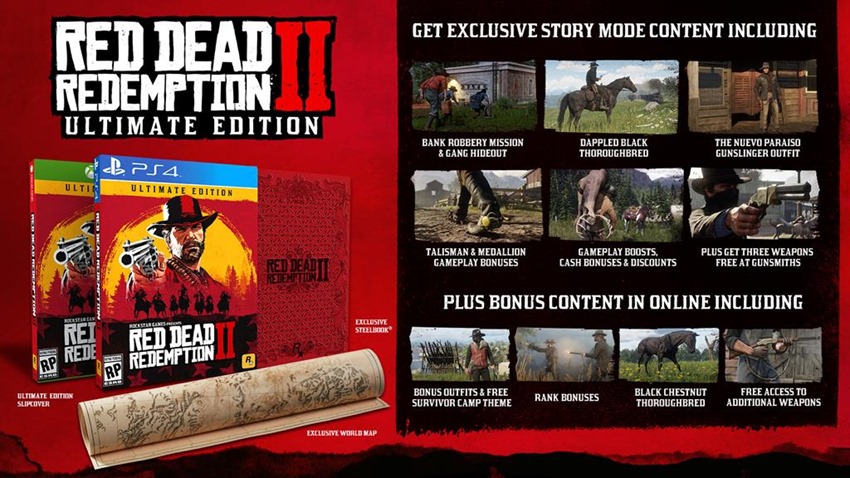 All of the above plus:
Bonus Outfits & Free Survivor Camp Theme
Rank Bonuses
Black Chestnut Thoroughbred
Free Access to Additional Weapons
Steelbook case
Exclusive World Map
Collector's edition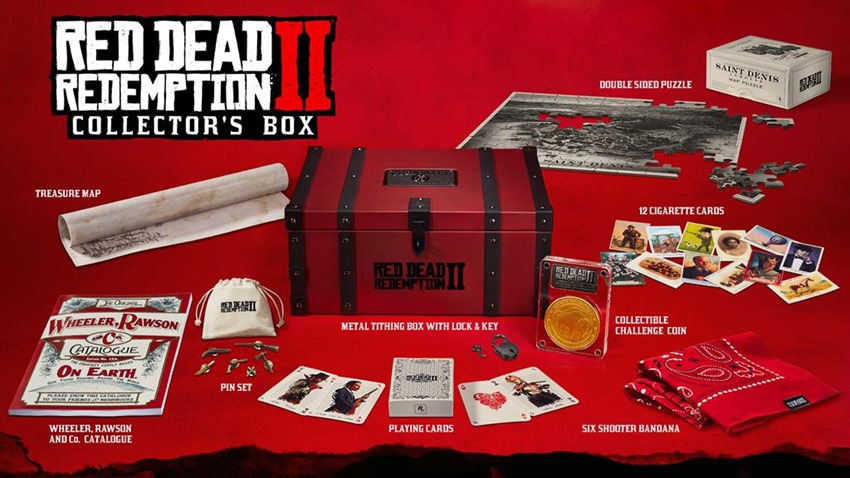 All of the content of the Special and Ultimate editions as well, but not the game itself:
A treasure map replica
Metal tithing box with lock and key
Wheeler Rawson and Co. catalogue
Pin set
Playing cards
Six shooter bandana
Collectible challenge coin
12 cigarette cards
Double-sided puzzle
Screenshots
Trailers
Last Updated: July 24, 2018