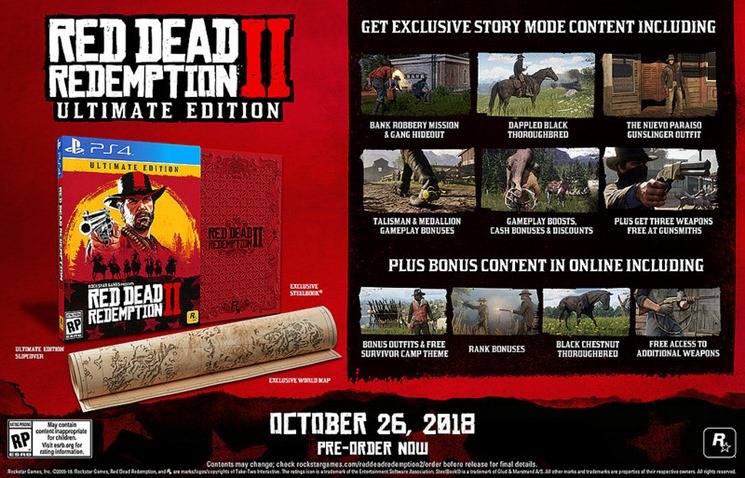 Yesterday, Rockstar Games revealed the Special and Ultimate Editions of Red Dead Redemption 2, along with the Collector's Box. The reveal stirred up a veritable hornet's nest, as players realised that they'd have to shell out extra money to get the story missions included with the Special and Ultimate Editions.
Here's the description of said missions, just for clarification:
Bank Robbery Mission and Gang Hideout in Story Mode: Get exclusive access to a Bank Robbery Mission, in which Arthur and a couple of his fellow gang members come up with a daring plan to break in and rob the bank in the southern town of Rhodes. Elsewhere, the Del Lobos Gang has taken over a hacienda – clear this gang's hideout and rob their stash for a lucrative take.
That is was described as a story mission has ruffled more than a few feathers. Rockstar has now clarified that the missions here or supplementary ones that have zero bearing on the main narrative. The company said on Twitter that "The Bank Robbery and Gang Hideout included in the RDR2 Special Edition are side activities created specifically for that edition and are not part of the main story."
That may have backfired. Instead of players unwilling to buy the special editions feeling short-changed, you now have people who've already pre-ordered the fancy copies feeling like they've spent extra money on something of little value. There's no pleasing everyone. Or anyone. Either way, I'm happy to skip the superfluous nonsense that's included in editions made for fleecing.
They also addressed complaints about the Collector's Box not containing the actual game, saying that it was done that way to "ensure players can pair the Collector's Box with the game edition of their choice (physical or digital)."
That's something I can actually get behind; a CE that's entirely supplemental, containing no in-game anything. It's not the sort of thing I'd buy anyway, but this allows people to still pre-load games digitally and then buy physical ephemera should they wish for it.
Last Updated: June 6, 2018