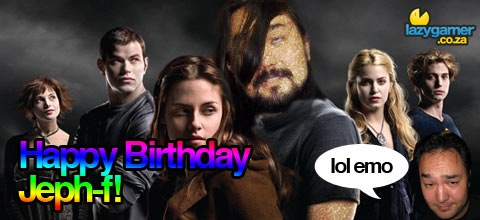 Today is Geoff's birthday and I think he may have actually thought that I was going to let him get away with it quietly.
No chance. Happy birthday Geoff from all of us here at Lazygamer, I thought about posting pictures of boobs up instead but I just couldn't help myself, knowing that you love Twilight so very, very much!
Here's to Geoff folks, without him there wouldn't ever have been as much cleavage for us to ogle on the site.
[Thanks Facebook for making my job so incredibly easy 😀 ]
Last Updated: March 1, 2010