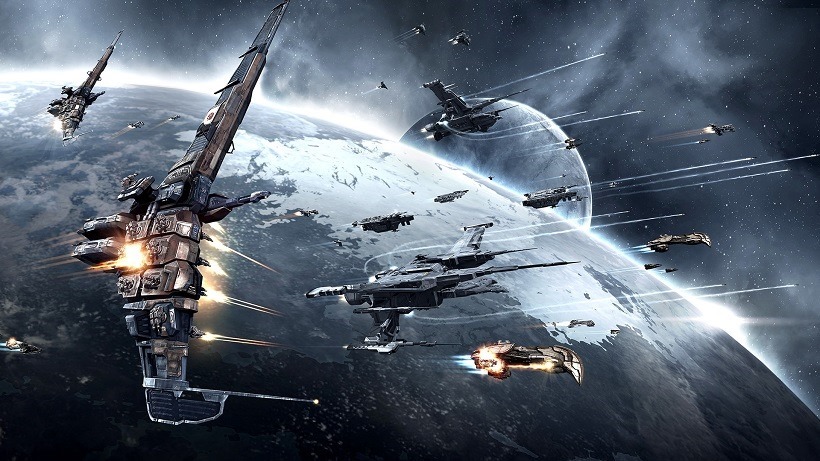 I know the MMO on the tip of everyone's tongue when it comes to thinking about old games is World of Warcraft. The Blizzard RPG has been in commission for over a decade, and just received its latest expansion in a bid to keep the proverbial ball rolling. But EVE Online, the space mining and trading simulator, usurps it by over a year. And after thirteen years of crashing economies and massive colonial battles, it's opening the gates for new players.
EVE Online developers CCP have revealed new plans to introduce a free-to-play option for the MMO. Players will now be split into two different classes of Clones. Omega Clone will be the new name for paying players, who will have access to all the features they have now. Alpha Clones, the free-to-play players, will be able to engage with most of the game's systems. Certain abilities, traits and ships will be locked out, but for the most part you'll be able to kickstart your EVE Online life and get a good feel for the complex title.
Returning subscription players who might have abilities or items outside of the free-to-play rules will have limited access to them for a short time, with most of the content being locked out the next time you dock your ship. That's really the only divide between players that CCP is implementing after the game's next expansion, but if you're looking for the specifics you can check out the extensive blog post here.
EVE Online, for those who don't know, is a gruelingly difficult space exploration title that has fascinated mathematicians and financial analysts for years now. The economy alone in EVE Online is one of its biggest draws, with an incredible amount of balance and behaviour that mimics real-life stock exchanges. It's so delicate that massive space battles incur huge real-world financial losses for warring factions, making their lengthy engagements engrossing to follow.
Jettisoning off as a lonely space colonist thirteen years later might sound daunting, but at least now there's no real barrier to entry.
Last Updated: September 1, 2016