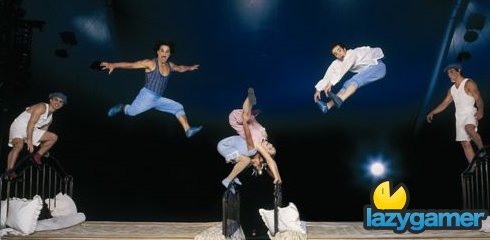 So you may remember a while back it was reported that Microsoft is banning all technology from it's big E3 Project Natal event?
Obviously the first thought we all had was that they wanted to avoid any videos going up showing the lag or technical failing of Project Natal and we all got a little worried about the hardware at that point.
However while that may still be true this is a far more logical reason for the technology ban at the event.
Microsoft has recently announced that all us lucky attendees will be treated to a live performance from the world renowned Cirque Du Soleil.
I have been dying to watch this show for years and have unfortunately never been able to afford the ticket prices so to say I am stoked about this turn of events would be an understatement.
My guess is that Microsoft hasn't purchased the broadcast rights for Cirque Du Soleil so by telling us that technology is banned they are living up to their side of the bargain… and we can't afford to be sued by these guys so we are going to honour their specific request.
What Cirque Du Soleil has to do with Project Natal is anyone's guess but we will answer that question for you on Monday the 13th of June… when we get back from the show.
Last Updated: May 15, 2010