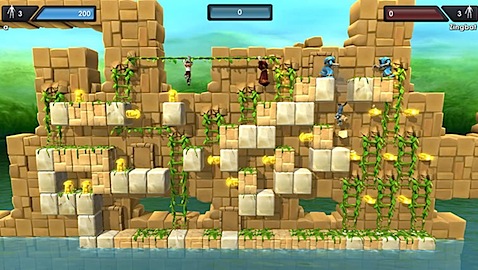 Major Nelson has posted up the additions to Xbox Live this week and to start off with, we have confirmation the the all new Lode Runner is now available and waiting for your money.
As well as Lode Runner, new clothes have also become available at the cost of nothing and are themed around apparently themed around Hip-Hop.
Check out the all the details, posted after the jump.
Ok, so here is the list of the new clothing and details for Lode Runner, as posted by Major Nelson:
For the men we have:
Denim Shorts
Faded Jeans with Print
Striped Visor Beanie
Diamond Stud Earrings
Square Stones Ring
And for the ladies:
Oversized Jacket with Chains
Short Shorts
Sports Vest
Diamond Stud Earrings
And now for the details on Lode Runner:
It's an all-new Lode Runner gold mine: 3D graphics, frenzied 2D action, lodes of modes, 220 levels, multiplayer options, puzzles, a level editor and more! Run, climb, blast blocks, outsmart enemies and grab the gold by yourself or with a partner! Battle up to three friends on Xbox LIVE in a frantic game of tag, where the first to die return as enemies! Survive endlessly spawning foes. Create and share devious levels. It's the mother lode!
Lode Runner is priced at 800 MS points, anyone here thinking of getting it?
Source: Major Nelson
Last Updated: April 23, 2009